Academy Awards: 'Gravity' Filmmaker Makes History As First Latino To Win Best Director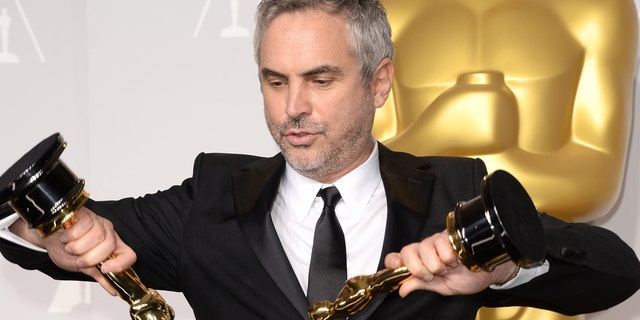 NEWYou can now listen to Fox News articles!
Although it did not take home the top prize - that went to Steve McQueen's "12 Years A Slave" - it was still a big night for the "Gravity," who led the 86th annual Academy Awards with seven Oscars, including a history-making best director win for Mexican director Alfonso Cuaron.
Cuaron, the mastermind behind the 3-D space thriller, became the first Latino filmmaker to take home an Oscar for best director.
"It was a transformative experience," said Cuaron, who spent more than five years filming and developing the visual effects for the movie. "For a lot of people, that transformation was wisdom. For me, it was the color of my hair."
While the director has drawn praise in the U.S., some Mexicans have been critical of his success because the attention came for a Hollywood release and not a Mexican-themed film. So many felt the accolades have little significance in Mexico.
"I'm Mexican so I hope some Mexicans were rooting for me," he told reporters backstage.
The 52-year-old director thanked his star, Sandra Bullock, the sole person on screen for much of the drama.
"Sandra, you are 'Gravity.' You're the soul, heart of the film…," he said during his acceptance speech. "One of the best people I have ever met."
Bullock lost the best actress award to Cate Blanchett, the star of Woody Allen's "Blue Jasmine."
Among "Gravity's" list of accolades was first-time winner Emmanuel Lubeski, who finally took home an Oscar statue after being nominated six times.
"I truly want to share this award with the cast and crew," said Lubeski, the second Mexican ever to win for cinematography. "I want to thank my friend and teacher Alfonso Cuaron - your creativity and drive is incredible."
"Gravity" also won for editing, score, visual effects, sound mixing and sound editing.
Along with winning best picture, "12 Years a Slave" made history as the first film to win the top award directed by a black filmmaker, McQueen, who dedicated his award to "all of the people who endured slavery and the 21 million people who still suffer slavery today."
Taking home the award for acting in McQueen's film was first-time winner was Mexican-born, Kenyan actress Lupita Nyong'o for her harrowing portrayal of a slave who's caught her sadistic master's eye. She took home the best supporting actress award, beating out big contenders such as Jennifer Lawrence and Julia Roberts.
"It's doesn't escape me for one moment that so much joy in my life is due to so much pain in someone else's," she said. "and so I want to salute the spirit of Patsey, for her guidance."
She continued: "When I look down at this golden statue, may it remind me and every little child that no matter where you're from, your dreams are valid. Thank you."
Nyong'o is the sixth black actress to win in the supporting actress category, following Hattie McDaniel ("Gone with the Wind"), Whoopi Goldberg ("Ghost"), Jennifer Hudson ("Dreamgirls"), Mo'Nique ("Precious") and Octavia Spencer ("The Help").
Also taking home the supporting actor award was Jared Leto for "Dallas Buyers Club." In an emotional speech dedicated to his mother and her inspiration for following your dreams, Leto also mentioned the protesters in Venezuela and the Ukraine.
"We are here and as you struggle to make your dreams happen, to live the impossible, we're thinking of you," he said.
Leto's co-star Matthew McConaughey won best actor.
Taking home the award for best original song, "Frozen" songwriter Robert Lopez, who is Filipino, became one of the few people to win an Oscar, a Tony, an Emmy and a Grammy.
In her second time hosting, openly gay Ellen DeGeneres sought to make celebrities more like plain folks. She passed out slices of pizza to the front rows at the Dolby Theatre, then passed around a hat to pay for it. She also tweeted a "selfie" with such stars as Meryl Streep, Julie Roberts, Jennifer Lawrence, Bradley Cooper, Pitt and Nyong'o. The shot "made history," DeGeneres told the audience later. It was retweeted more than two million times.
The Associated Press contributed to this report.
Follow us on twitter.com/foxnewslatino
Like us at facebook.com/foxnewslatino