Manti Te'o's Real Girlfriend, Alexandra Del Pilar, Speaks Out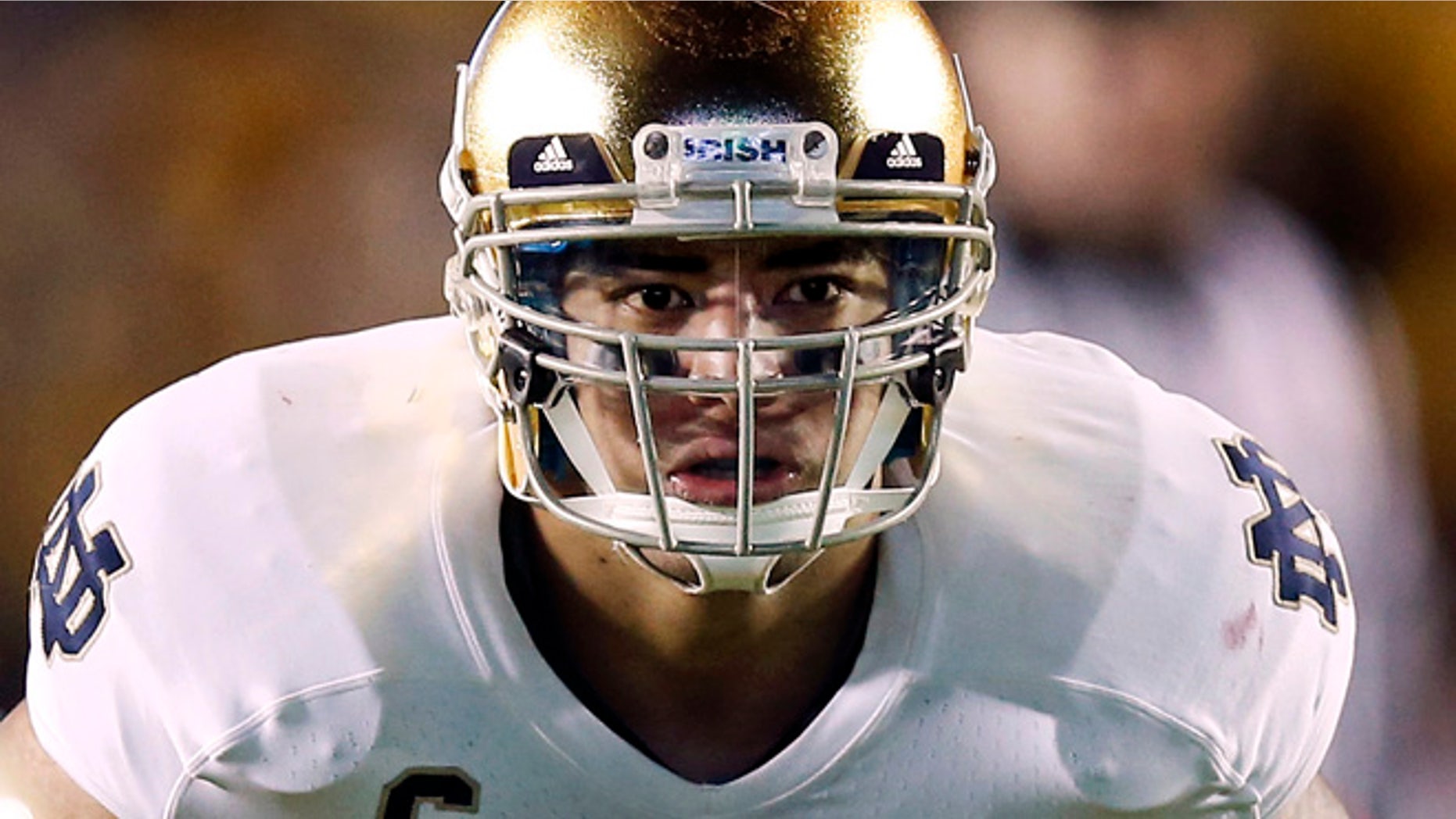 Just as Manti Te'o revealed the truth behind his fake dead girlfriend in an interview with Katie Couric, his real life ex spoke out on the Notre Dame's stars behalf.
Alexandra del Pilar, 21, told "People" magazine Te'o was genuinely in love with  Lennay Kekua and was truly a victim of a "catfish" hoax.
"I wanted to know about her, and how they did the long distance," Del Pilar told People. "He definitely [loved her]."
Pilar, a junior at the Notre Dame sister school St. Mary's College who met Te'o in November and dated him until earlier this month, said the former Heisman Trophy hopeful was a devoted boyfriend during the couple's short lived, real life romance.
Pilar told the magazine that in early December, around the time Te'o alleges he realized Kekua was fake, he confided in her.
"Nothing made sense," Del Pilar said after learning about the bizarre situation. "But since he didn't understand it either, he told me everything he knew."
Now with the media scrutinizing Te'o questioning whether he was in on the hoax, del Pilar said she wanted people to know that she in no way thinks he could have taken part in all of this.
"I just felt completely sorry for him because he was being accused of things he had no idea about," she said during the interview.
The national media sympathized with Te'o after Kekua allegedly died of leukemia around the same time his grandmother also died of cancer. Weeks later, the story exploded after it was revealed Kekua did not exist. Te'o insists he was a victim of a hoax.
But while Te'o was supposedly grieving over Kekua, he was actually spending time with Del Pilar, whose father happens to be a cancer specialist.
"When he was going through all the trouble with his grandma in September, that's when he started talking with Alex," a source told the New York Post.
Te'o claims he did not realize Kekua did not exist until Dec. 6 -- even though he had been exchanging tweets with Del Pilar. Still, he claims he got a call from Kekua that same day and that she allegedly said she had to fake her passing because of issues with drug dealers who were attempting to kidnap her.
"He was shocked, and he didn't believe her. That's when he told the school and his family," one of Te'o pal told the Post.
Two days later, Del Pilar took to Twitter quote Mark Twain, apparently in reference to the ensuing scandal.
"A lie can travel halfway around the world, while the truth is still putting on its shoes' - Mark Twain."
Follow us on twitter.com/foxnewslatino
Like us at facebook.com/foxnewslatino