NY Giants' Rookie Victor Cruz Scores His First Two Touchdowns in Win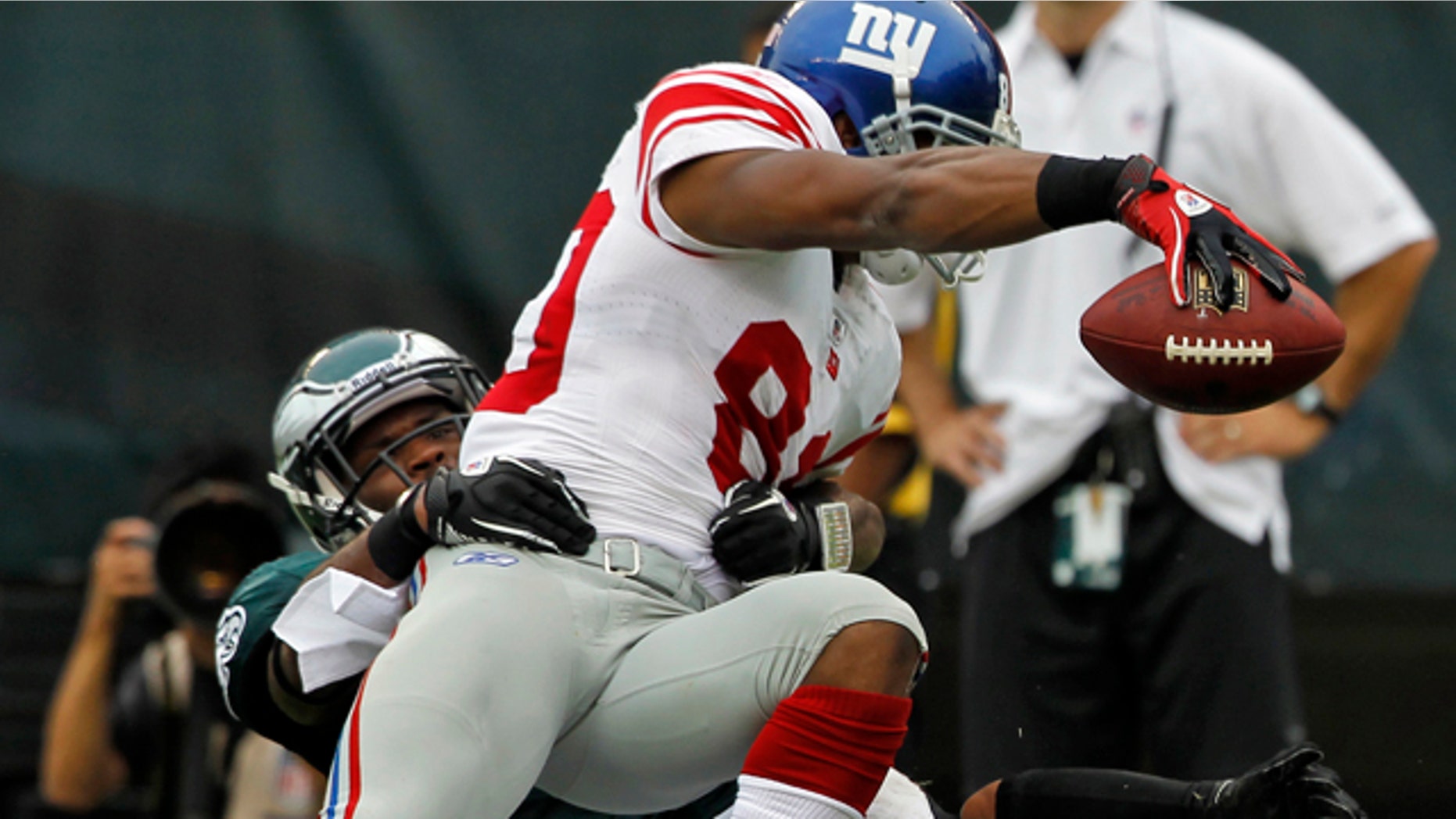 Manning threw four touchdown passes, including two to Rookie Wide Receiver Victor Cruz for his first career regular season scores, helping the Giants beat the Eagles 29-16 Sunday.
After McCoy was stopped for a 3-yard loss by Michael Boley on fourth-and-1 from the Giants 43, Manning drove New York in for the go-ahead score. He tossed a 28-yard TD pass to a well-covered Cruz who made a spectacular catch to put the Giants up 20-16. Jacobs ran in the 2-point conversion to make it 22-16.
Cruz outfought Nnamdi Asomugha and Jarrad Page to make the catch near the goal line and fell into the end zone, losing the ball after he crossed.
"It means the world to me because a lot of people were saying our receivers were down and who would step up and I was happy to be that guy that stepped up to help my team," Cruz said.
Even Manning was awed by the catch after the game.
"It's just a great effort by him. [CB] Nnamdi [Asomugha] played it well. We kind of had a corner route and then a higher corner route over the top. I thought he was going to jump the tight end but he played it back there and really probably not a great decision by me to throw it in the first place but great job by Victor just going up there kind of with the attitude of either I'm going to catch it or nobody, and that's what he did," Manning told the New York Times.
Cruz went undrafted in the 2010 NFL Draft and before Sunday was known more for his pre-season performance on August 16, 2010 against the New York Jets in which he caught six passes for 145 yards and scored three touchdowns on national television.
Manning threw for 254 yards, and Ahmad Bradshaw ran for 86 and had 53 more receiving, including a TD. Filling in because Mario Manningham and Domenik Hixon are out, Cruz had three catches for 110 yards and his first two career scores.
Aaron Ross, who was benched in the second half of New York's win over St. Louis last Monday, had two interceptions that led to 14 points.
Michael Vick got a helping hand from an official after a hard shot knocked him to the ground and left him with a broken right hand.
He didn't get the call.
With Vick sidelined again, Eli Manning and the New York Giants wouldn't let the Philadelphia Eagles finish off their comeback.
Vick started despite suffering a concussion in last week's 35-31 loss at Atlanta. He left this one in the fourth quarter after helping the Eagles overcome a 14-0 first-quarter deficit to take a 16-14 lead.
It's uncertain how long the left-handed Vick will be out. He'll have a CT scan Monday.
Vick blasted the officials after the game, saying he wants to be treated like other quarterbacks.
"At some point something catastrophic is going to happen," Vick said. "Not to blame the refs or say that it was their fault, it's just one of those unfortunate situations and I just think more precautions should be taken when I'm inside the pocket. If you look at all the replays, I'm on the ground every time and it's unfortunate for myself and it's unfortunate for my team and I'll be lying if I said I wasn't, if I were to sit here and say I wasn't frustrated right now because of that."
Vick got hurt on a hit from Chris Canty after completing a 23-yard pass to Jeremy Maclin in the third quarter. It appeared on replays that Canty hit Vick in the facemask with his helmet. Vick sat on the ground and lifted his helmet off slightly before getting helped up by a teammate and an official.
"There's no reason for me to go into a big dissertation about why I'm not getting the calls," Vick said. "The refs, they have to do their job as well. I even mentioned it in training camp to the refs when we had our little meeting, so just for precaution. But hey, I don't know."
Without their Pro Bowl quarterback, the Eagles (1-2) hardly look like the "Dream Team" that entered the season with Super Bowl-or-bust expectations.
Manning threw a pair of TD passes in the fourth quarter to rally New York. The Giants (2-1) have won two in a row and snapped a six-game losing streak against their division rivals.
"It's always good to beat those guys, especially here," Manning said. "They have good players and we knew we had to come in with the same game plan as last year and just finish it this time."
In their previous meeting at the Meadowlands last December, the Eagles rallied from a 21-point deficit with 8:17 left, and won 38-31 on DeSean Jackson's 65-yard punt return for a touchdown on the last play.
The teams traded a lot of trash talk in the offseason and during the week. The Giants backed it up.
"I think I responded today," Giants safety Antrel Rolle said. "I'm not scared of anyone on the field. I thing it's more mental than physical. They tried to get in my head sticking their hands in my face, blocking me after the play, but if they want to fight, I'll fight anyone, but in between the lines, I'm too smart to get thrown out of the game."
Mike Kafka replaced Vick on the ensuing possession and Ross intercepted his first pass. Manning connected with Bradshaw for an 18-yard TD pass to put the game away.
Vick finished 16 of 23 for 176 yards and one interception. He ran for 31 yards.
LeSean McCoy had 128 yards rushing and one TD for Philadelphia, which has blown two fourth-quarter leads in consecutive games.
The Eagles dominated time of possession by a nearly 3-1 margin throughout the first three quarters, but didn't take the lead until the final minute of the third when Alex Henery kicked a 21-yard field goal.
It was a disappointing end to a drive that began at the 10 and stalled at the Giants 1. The Eagles had a first down at the 2 and failed on four runs to get it in. McCoy didn't get one of the handoffs.
Vick left the game for X-rays on his right hand after that drive and was temporarily replaced by Kafka. But he returned during a timeout while Kafka was in the huddle and played one more drive before going to the bench.
Steve Smith made a crucial mistake on the first ball that came his away against his former team. Smith left the Giants for Philadelphia and returned ahead of schedule from knee surgery to be ready for Week 1. Vick's third-down pass on Philadelphia's first drive hit Smith in the hands and bounced in the air to Ross, who caught it at the Giants 8. Ross returned the interception 19 yards, and Manning needed six plays to lead New York into the end zone.
Based on reporting by the Associated Press.
Follow us on twitter.com/foxnewslatino
Like us at facebook.com/foxnewslatino