LFO star Brad Fischetti defends abortion clinic tweets, says he has changed since his boy band days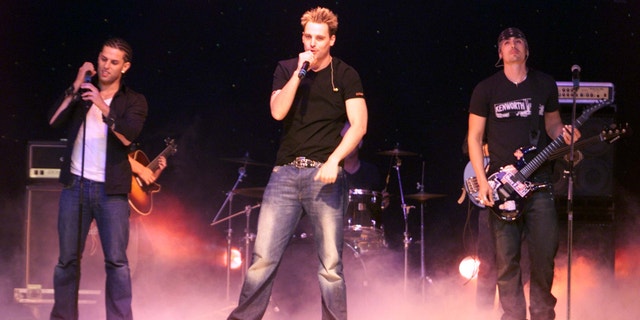 LOS ANGELES – Brad Fischetti, a singer with the popular '90s boy band LFO, caused a media stir earlier this year following a series of tweets stemming from his personal experiences at abortion clinics.
The musician used the microblogging site to tweet "50 girls waiting to have abortions at this one clinic today. Please pray for a softening of hearts," and "the abortionist just arrived. Look him up on your phone (followed by the doctor's name.)"
"All of a sudden I was bashed in the media with people telling me I was going to hell, that I am a dirt bag and I should be ashamed of myself. It's almost humorous that people find it so hard to believe that someone who used to be famous could actually have strong convictions about something," Fischett told FOX411's Pop Tarts column. "Most people in the limelight try their best to stay in the middle and not make anyone mad."
Fischetti said he has deeply held religious beliefs and is just trying to help the women at the clinics.
"I don't judge them; sometimes I don't even talk to them. I just go down there to pray," he explained.
However, some argue that Fischetti's involvement may do more harm than good.
"Guilting women into becoming mothers can lead to life-long consequences for both the woman and child she brings into the world under such duress," Peggy Loonan, founder and executive director of Life and Liberty for Women. "Guilt is a powerful motivator and it can lead, in these situations to abuse and neglect of the child, and resentment by the mother especially if she is not emotionally or financially prepared to be a parent."
Kierra Johnson, executive director of ChoiceUSA.org, added that while "we love seeing celebrities standing up for what they believe in, we would much rather see support for women facing unintended pregnancies, not shaming and guilt."
Fischetti told us his involvement does not stop at the clinics, and said he's helping one pregnant young woman whose boyfriend threatened to kill her if she did not terminate her pregnancy.
"She was two weeks past the legal limit in Florida and the clinic tried to send her to their secret clinic in Washington D.C. that will practically do abortions all the way until the last day," he claimed. "She had a change of heart and asked me to help her. She had three kids, pregnant with no money, no beds. We are helping her pay rent and bought beds for the kids. It is just heart-wrenching."
And while the former pop music star puts his faith first now, that wasn't always the case.
"I grew up Catholic, and during the LFO days, at the beginning, I was definitely the one that led prayer for each show and always had a bible with me, but my life did not revolve around faith like it does today. I did reach a point where I lost my faith, that was the peak of LFO days, and it was a long journey back to it," Fischetti said. "If you believe in God you have to believe in the devil, and believe there is a daily battle for your soul. I try my best today to live as a good a life as I possibly could."
Danielle Jones-Wesley contributed to this report.