Lenny Kravitz says he 'cannot escape' giant scarf meme, explains reason behind fashion choice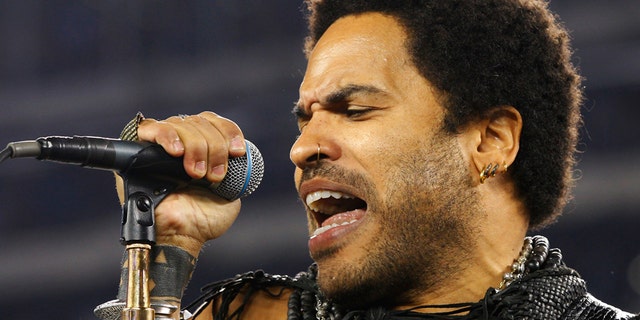 For years, Lenny Kravitz's one daring fashion choice has been the talk of the internet — and the singer says he "cannot escape" the memes that have followed. The singer-songwriter finally got a chance to explain himself on "The Tonight Show Starring Jimmy Fallon."
Late-night host Jimmy Fallon couldn't help but ask the 54-year-old about the meme, which has reportedly been circulating since 2012.
"I want to know if this is real," Fallon said as he held up a photo of Kravitz walking along a New York City street with an oversize scarf.
Shaking his head, Kravitz explained he lives in the Bahamas and he's used to hot weather. So, when he stepped outside in the winter in New York, he decided to put on a scarf "to protect [his] throat."
DEMI LOVATO'S MOM RECALLS TERRIFYING MOMENT SHE LEARNED SINGER OVERDOSED: 'I WAS IN SHOCK'
"That's the scarf I had," he said, adding he was simply stepping out to buy some groceries and didn't expect to run into paparazzi.
"But Lenny, this is not a scarf — this is a blanket," Fallon said, again showing off a picture of Kravitz donning the scarf.
Kravitz said Fallon should "blame the guy" who made the scarf and gave it to him. Kravitz said photos of the scarf keep getting "bigger and bigger" thanks to internet users' impressive Photoshop skills.
KELLY CLARKSON TO HOST NEW DAYTIME TALK SHOW THAT 'BREAKS WITH TRADITION'
"Yeah, cause this is the one I saw," Fallon joked, holding up a photo of Kravitz sporting a scarf bigger than his body.
While internet trolls love to poke fun at the photo, the singer is still getting a ton of support from fans.
"It would look crazy on anyone else... but Lenny makes everything look cool!" one YouTube user commented.
"He looks gooooood in that scarf," another added.
"Only Lenny could make a blanket scarf look cool," one fan agreed.