Lady Gaga's Bloody Nun Outfit Debut, Video Causes Uproar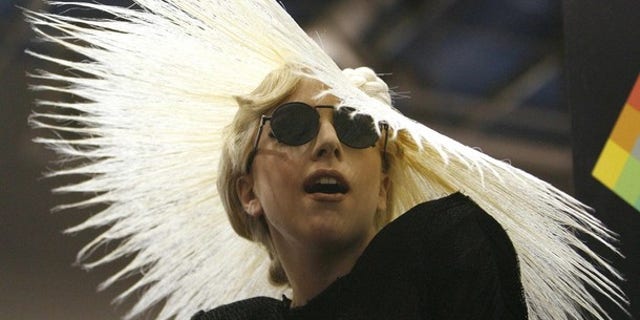 Lady Gaga thrilled fans in New Zealand on Saturday with a burning piano, blood and a latex nun outfit featuring in her first concert in Auckland, according to local media reports.
Her electrifying concert at Vector Arena, kicking off her Antipodean tour, came as her new video faced debate about its swearing, violence, full-frontal nudity and provocative lesbian sex references.
Gaga's two-and-a-half-hour show featured 16 costume changes, elaborate sets and scantily clad back-up dancers, stuff.co.nz reported.
Known for her quirky dress sense, The New Zealand Herald said Gaga looked hot in all her outfits and described one as a "nun's habit made out of a condom".
"Extravagance and glam is what the world has come to expect from a girl who two years ago was a no name and now she's the biggest pop star on the planet," the newspaper reported in its Sunday edition.
"Gaga might not be the best dancer, nor a great singer with an often droll Madonnaesque tone, but she has the intrigue, star power, and pluck to pull it off."
And it seemed concert-goers agreed, posting comments on stuff.co.nz describing the show as "amazing", "stellar" and "fantastic".
"The stage show was as good as anything I have ever seen. Her presence was commanding," John posted.
"Gaga was the most amazing concert experience of my life. Every minute was pure heaven," Ally commented.
"Anyone who's ever seen her live can testify she is nothing like Britney Spears or Madonna. This girl really is everything," Dylan added.
Meanwhile, MTV on Saturday banned Gaga's "Telephone" video clip and more TV networks are expected to follow suit with its content ensuring they cannot show it during regular programming.
The extravagant video, featuring Beyoncé, launched online on Thursday (EST) and has been viewed more than 8 million times on YouTube.
Directed by Jonas Akerlund, who also helmed the singer's "Paparazzi" video, the nine-and-a-half-minute clip begins with two bra-flashing guards escorting Gaga to her prison cell, as an audience of incarcerated girls looks on seductively.
Once she reaches her destination, the officials strip the New Yorker to her pants, prompting one to say: "I told you she didn't have a d---," referring to rumours that Gaga was born a hermaphrodite.
Eventually, Gaga is bailed out of the jail - courtesy of her partner in murderous crime, Beyoncé.
The wacky blonde rides off with her pal, but not before Beyoncé tells off her accomplice: "You've been a very bad girl. A very, very, bad, bad girl, Gaga."
In a later scene, Beyonce flashes her breasts at a man in a diner before spiking his drink with poison while the unsuspecting man - who committed the cardinal sin of eating all of her honey - has his back turned.
After he collapses dead on the table, a ruthless Beyoncé tells his corpse: "I knew you'd take all of my honey, you selfish motherf-----."
At the end, the deadly duo drive off in a bright yellow Chevrolet Silverado SS - the truck the bride drives in "Kill Bill: Volume 1" and loaned out by Kill Bill director Quentin Tarantino - as police appeal for their whereabouts.
Gaga said the clip was inspired by Tarantino's work.
"There's certainly always a hidden message in my music videos," she said.
"But I would say most predominately, I'm always trying to convolute everyone's idea of what a pop music video should be."
Gaga will perform at Auckland's Vector Arena again on Sunday.
She will arrive in Sydney in time for sell-out concerts on Wednesday and Thursday before continuing her first headline tour in Melbourne, Canberra, Wollongong, Newcastle, Brisbane, Adelaide and Perth.