Kelly Ripa, Mark Consuelos share style secrets they've taught their kids
Kelly Ripa and her husband Mark Consuelos have revealed the style secrets they've shared with their kids over the years.
The couple and their three children Michael, 21, Lola, 17, and Joaquin, 16, spoke with People for the magazine's Beautiful Issue to discuss fashion, beauty and learning from each other.
KELLY RIPA SHARES HILARIOUS THROWBACK EASTER PHOTO OF SON AND DAUGHTER
"It's a cliché, but beauty is really something that comes from the inside. And our kids get that," Consuelos, 48, told the outlet.
Ripa, also 48, added: "They've been to enough photo shoots and been on Instagram long enough to know how much can be faked and filtered and altered and so they aren't fooled by what a picture tells you you should look like. That's not real beauty."
In a video of the interview, Ripa, the host of "Live! With Kelly and Ryan," confessed that most of the family could wear their clothes three days in a row.
"I will say, everyone here on this sofa -- with the exception of Lola -- could possibly wear the same thing three days in a row. Except for Lola. Is that a fair statement?" she asked, to which everyone agreed.
"Or have three copies of the same thing," Mark chimed in.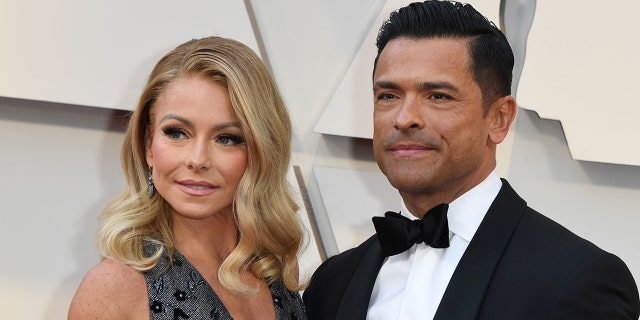 Lola later explained the classic makeup advice her mom passed on to her, though she admitted it took her a while to get it.
"I feel like every mom says this to their daughter, but definitely less is more because when I first started wearing makeup in eighth grade, I look back at photos and I'm like, 'Oh, my god,'" Lola confessed in the video.
KELLY RIPA CELEBRATES MARK CONSUELOS' 48TH BIRTHDAY WITH SWEET TRIBUTE
Meanwhile, Michael acknowledged how he learned about caring properly for denim -- after he'd done the wrong thing.
"I was off at school," Michael told the outlet. "And I get this call: 'Mike. There's a pair of jeans here. And … they've been washed, Michael. Washed and dried. Do you know what happened here?' So that's how I learned …"
"You don't wash denim," Consuelos chimed in.
"But that wasn't the only problem with that situation, Michael. What was the other problem? They were my jeans. You did that to my jeans!" Consuelos added.