Julia Roberts doesn't think she should star in romantic comedies anymore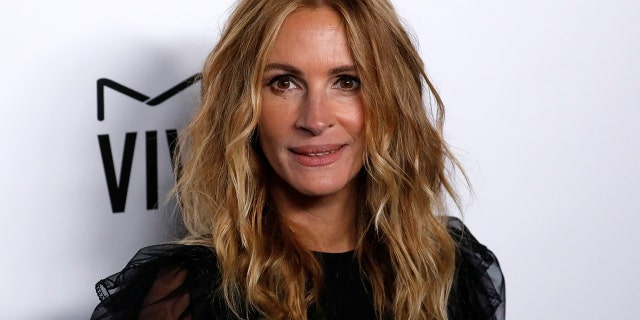 Julia Roberts built her career starring in some of the most enduring romantic comedies of the modern film era. However, fans shouldn't hold their breath when it comes to seeing her starring in any in the future.
ET's Keltie Knight spoke with Roberts in Los Angeles on Sunday, where the Oscar winner was promoting her upcoming drama thriller series "Homecoming," and she admitted that she feels she's had too much life experience to convincingly star in a rom-com at this point.
"Unless we [play] the parents of the people that are rom-com-ing," Roberts, 50, explained.
Julia Roberts Rocks Dramatic Bangs in First Photos From Amazon's 'Homecoming'
While the actress has iconic rom-coms like "Pretty Woman," "My Best Friend's Wedding" and "Notting Hill" on her impressive list of credits, her most recent role in the genre came in Garry Marshall's 2016 ensemble "Mother's Day," where her storyline didn't focus on romantic love, but instead followed her journey as a mother reconnecting with her child.
"There came a point in my career where people thought I had turned on romantic comedies, which I love them, I love to be in them, I love to watch them," Roberts explained. "But sometimes, they just don't work at a certain point of life experience."
For Roberts, the disconnect comes when the audience doesn't believe that the actors in the film aren't naive and emotionally juvenile, as the characters in rom-coms tend to be to allow for the zany situations and farcical hijinks inherent in the genre.
Julia Roberts Is at the Center of an Insidious Mystery in First 'Homecoming' Trailer
"It's not about age, it's just about what people know that you know," Roberts explained.
In her upcoming drama series "Homecoming," Roberts stars Heidi -- a former caseworker at a government facility that helped soldiers transition back into the world as a civilian, who has now left her life behind and is haunted by paranoia, conspiracies and memories she didn't know existed.
Roberts is reuniting with Dermot Mulroney for the new project, who she previously starred alongside in "My Best Friend's Wedding" and "August: Osage County" and the actress had nothing but praise for her longtime friend.
"He just made a meal of this part," Roberts said of Mulroney, who plays her boyfriend in the series. "[And] I think because people think of us together, it allowed us to do more."
However, their friendship made it tough to take some parts of the tense drama serious during production.
Julia Roberts Beams in Understated, Glamorous Outfit in London -- See the Pic!
"It was fun, [but] it was hard to keep a straight face at all times," Roberts admitted.
"Homecoming" debuts Nov. 2 on Amazon Prime Video.