Judge Orders Anna Nicole Smith's Former Boyfriend, 2 Doctors to Stand Trial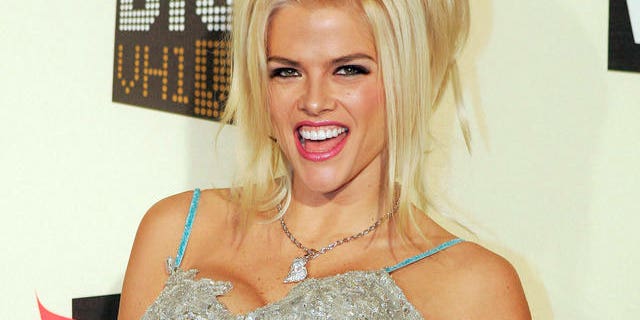 LOS ANGELES – Three key players in the troubled world of Playboy model Anna Nicole Smith have been ordered to stand trial after a hearing that plumbed the drug-fueled depths of her final years and the alleged roles of her boyfriend and two doctors in feeding her addiction to prescription drugs.
A judge who heard sometimes shocking testimony about the flood of drugs provided to Smith ruled Friday there was sufficient evidence to try the defendants on charges of conspiring to give Smith sedatives and opiates.
Defense lawyers had argued that lawyer Howard K. Stern, Dr. Sandeep Kapoor and psychiatrist Dr. Khristine Eroshevich tried desperately to save the doomed model in her waning years, including a period when she gave birth to a daughter and lost her grown son to a drug overdose.
One of the last pieces of prosecution evidence introduced was a transcript of an investigator's interview of a Smith friend who said she saw Stern placing pills in her mouth.
"He poured them in her mouth like you would a bird," Gina Shelley said in the interview.
Superior Court Judge Robert J. Perry stressed that his ruling required only minimal proof that would cause a reasonable person to suspect the defendants committed the crimes. He dropped one charge that Eroshevich gave Smith placebos, finding there was not sufficient evidence.
With attorneys battling over whether Smith was addicted, the judge proclaimed, "I think you've proven (Smith is) an addict."
All three defendants pleaded not guilty, If convicted they each could face more than five years in prison. A Dec. 11 arraignment was set.
Eroshevich was the only defendant to comment after the hearing.
"I understand that I have to go through this process," she said.
Smith died of an accidental overdose of at least nine medications in February 2007 at a Florida hotel. The defendants were not charged with causing her death but were accused of conspiring to illegally provide her with controlled substances and supplying drugs to an addict.
Defense attorneys contended their clients did not know Smith was an addict and were trying to help her.
"Criminalizing a doctor's efforts to help a difficult patient is problematic," Kapoor's attorney, Ellyn Garofalo, told the judge before his ruling. "A doctor's even poor judgment is not criminal. Good faith is involved."
The hearing delved deeply into Smith's troubled life and the role the defendants allegedly had in feeding her drug addiction as they were swept up in her celebrity world. Larry Birkhead, the father of Smith's young daughter, said he never saw anyone take as many medications as Smith.
Prosecutors tried to show the doctors blurred the line between being physicians and friends.
Kapoor once rode with Smith in a gay pride parade and worried in a diary excerpt read in court that she might ruin him because he had kissed her.
Attorney Adam Braun, who represents Eroshevich, said his client was Smith's friend first and then her psychiatrist.
"The weight of testimony is that my client cared deeply for Anna Nicole Smith," Braun told the judge. "She was well intentioned."
Stern's attorney, Steve Sadow, said the drug charges should not apply to his client.
"Mr. Stern is just a layperson," Sadow said. "He is not a doctor, and he is being charged with doctor-related activities."
The judge said at one point in the hearing that he was convinced all three defendants cared deeply for Smith and tried to help her.
The defense lawyers also objected to charges involving the use of pseudonyms on Smith's prescriptions. They said the practice was common for celebrities and noted Smith had even been checked into a hospital under an assumed name.
Prosecutor Sean Carney argued there was no "celebrity exception" to the law.
Outside court, attorneys for Stern and Eroshevich said they were pleased to have had the chance to see so many of the prosecution's witnesses -- 17 in all -- because it gave them a preview of the prosecution at trial.
Kapoor's lawyer, Garafolo, said the case could have serious consequences for doctors and patients everywhere.
The hearing included testimony from a bodyguard who provided a searing description of Smith's final days and his futile effort to revive her when she stopped breathing.
There also was testimony about the effects of methadone and a heavy duty painkiller called Dilaudid also known as "hospital heroin." An expert witness said there was no legitimate medical reason for Kapoor and Eroshevich to provide Smith the amount of sedatives and painkillers they did.
A pharmacist said he refused to fill an order for drugs written by Eroshevich and submitted by Kapoor because taking them would be "pharmaceutical suicide."
Possibly the most powerful witness against Stern was never seen at the hearing. A nanny who worked for Smith in the Bahamas was interviewed by an investigator who read her comments from the witness stand.
The nanny claimed Stern kept Smith in his thrall by persuading her to take excessive amounts of drugs that sent her into a stupor where she would sleep for three days at a time.
Although the judge reminded lawyers repeatedly that this was just a preliminary hearing, it had the feel of a mini-trial.
Defense lawyers, who challenged testimony on cross-examination, presented no witnesses of their own, holding back their evidence for trial.