John Stamos marries pregnant fiancee Caitlin McHugh, report says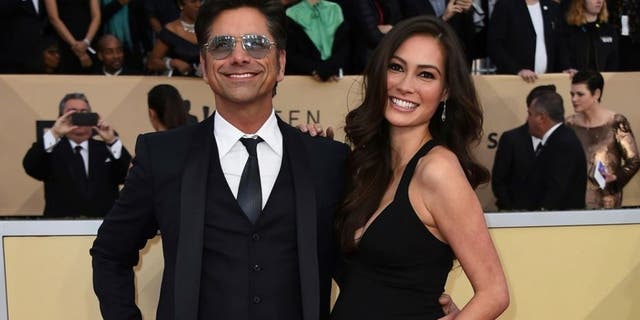 Sorry, ladies! Soon-to-be-father John Stamos and his pregnant fiancée Caitlin McHugh got hitched Saturday, according to ET Online.
The pair, who announced their fairytale-style Disneyland engagement in October, got married at the "Fuller House" actor's home in Beverly Hills, Calif., the outlet said.
According to a photo of the event from ET, the happy couple was seen holding hands while they got ready to pose for photographs in the yard. The bride wore a strapless white gown and her new husband donned a black tuxedo, paired with a classic black bow tie.
JOHN STAMOS' FIANCEE REPORTEDLY ROBBED DAYS BEFORE WEDDING
Stamos, 54, and McHugh, 31, announced in December that they were expecting their first child together.
"The [pregnancy] happened. Then I said, I better have a ring on her finger because it's the right thing to do, and I wanted to marry her anyway," Stamos said in an exclusive interview with People at the time. "So I called her parents to ask, and it was like, 'You better!'"
The couple, who earlier reports said planned to be married Sunday, were reportedly robbed just days before their nuptials. TMZ reported McHugh left her hotel room in Beverly Hills on Friday and came back to find that about $165,000 in jewelry had been snatched.