John Gotti Victims Upset by John Travolta's Repeated Meetings With Mob Family in Advance of Movie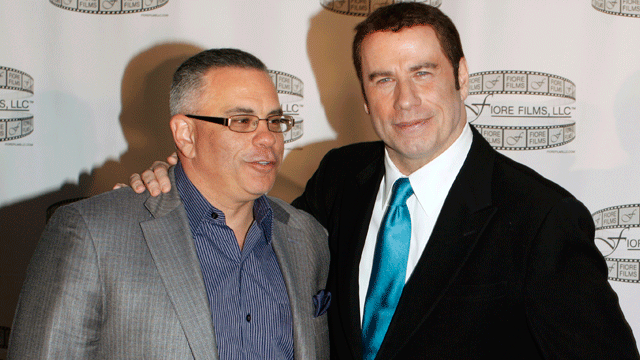 John Travolta has met with the late Mob boss John Gotti's family three times in the past 10 months for what the actor says is research for his new movie, "Gotti: In the Shadow of My Father," based on John Gotti Jr.'s memoir about growing up in the Mob.
But some victims of the Gotti family business and others think the series of highly publicized meet-and-greets has been too much, given the Gottis' involvement in decades of murder and intimidation.
"He (Travolta) wants to go out playing a guy who made my life and other people's lives miserable for decades," Guardian Angels founder and radio host Curtis Sliwa told FoxNews.com.
Why does Sliwa care? In 1996, a federal jury indicted John Gotti Jr. on charges he had ordered a June 19, 1992, shooting attack on Sliwa in an effort to silence the radio host's verbal attacks on his father. Sliwa escaped his attackers after being shot twice by jumping out of a moving taxicab in which he was being held hostage. Federal prosecutors eventually gave up their legal pursuit of Gotti Jr. after three juries failed to convict him.
"Looking at some of these photos, you have to say to John Travolta, 'My God I understand why you take the part, but now you love the publicity of being with them, and that makes you a wannabe gangster, and a wannabe thug,'" Sliwa said.
Scott Favara, the son of John Favara, who is believed to have been murdered after he accidentally killed John Gotti's son Frankie in a car accident in 1980, also told People magazine the film is rubbing him the wrong way. "It's like putting salt in an open wound," Favara said.
Buzz about the film began building in January, when Travolta met with Junior Gotti over an Italian dinner at Amici's in the Brentwood neighborhood of Los Angeles. The pair was photographed deep in conversation and hugging outside the restaurant. They were photographed again in April at a press conference for the film in New York following a five-hour lunch together.
But they weren't done. Travolta traveled alone to the Queens home of John Gotti's widow, Victoria, last week to seek her blessing for the film.
Again, photos of the Sept. 22 meeting, which took place in a residential New York neighborhood not normally frequented by paparazzi, were in abundance. And it is these photo ops, accompanied by copious details about the meet and greets released to the press (after his recent Queens jaunt it became known that Travolta brought along gift bags and later posed for a picture with Gotti, Jr. and Mob lawyer Charles Carnesi), that have others rolling their eyes.
"The photo opportunities and chumminess between the Gotti family and stars like Travolta would strike most objective people as being in bad taste," Douglas Century, author of "Takedown: Fall of the Last Mafia Empire," told FoxNews.com. He said Travolta's camaraderie with the Gottis, which, on the last visit, also reportedly included another dinner with Junior and his sister Victoria, could influence how the actor portrays the murderous mobster on the screen.
"Travolta is going to essentially hang out with the Gotti family, form a bond -- if not a friendship -- and that sense of empathy will come through on-screen," Century said. "With John Gotti's murders, the wounds are still too fresh for so many of the victims."
Mob chronicler Jerry Capeci, author of "Gotti: Rise and Fall," and proprietor of the Gang Land News website, also wonders why we know so much about a movie that hasn't even shot a scene yet. "For a movie that's at least four months away from beginning production, there's been a lot of hype about the new Gotti pic, but I guess that's show biz," Capeci told FoxNews.com.
Apparently in Hollywood, when you have a brand as good as Gotti, you might as well capitalize.
"In gangland, the Gotti names remain the gold standard for notorious mobsters. And whether it's the Feds or the tabloids or Hollywood, it always gets blown a little out of proportion," Capeci said.
Travolta's team isn't taking any criticism over his association with the Gotti family lying down.  We called Travolta's reps for a comment about his meetings with the Gotti family and research for the film.  In response, we received a legal letter telling FoxNews.com  that the actor's meetings with the family are just research.
"My client has not spent an inordinate amount of time with the Gotti family to prepare for the role. His preparation has been no different than that of any good actor," lawyer Martin Singer wrote to FoxNews.com.
Research is indeed a tool of the acting trade. Acting coach Cliff Osmond, who worked with Armand Assante when he portrayed Gotti Sr. in the HBO biopic "Gotti" in 1996, says Assante wished he could have had access to his muse.
"We would have loved to have seen the man, Gotti himself. However, by then, he was already deep in prison. But we did research, face-to-face contacts, with some of his former colleagues in Florida, including his lawyer, Bruce Cutler , in Miami, and John's daughter, Victoria, at a country club and a diner parking lot in northern New Jersey," Osmond said. "These meetings aided greatly in Armand's superb performance."
And while research is appropriate for any role, whether it's about a saint or a serial killer, the succession of photographs of Travolta breaking bread with a Mob family may have as much to do with stoking interest in the film.
Posing with notorious criminals may also make Travolta seem more like a tough guy in the wake of criticism proffered last week by former Mob member Lewis Kasman, who said: "'For John Gotti Sr., you need a man's man to play that role. John Gotti Sr. never danced a dance in his life."
Kasman was apparently referring to Travolta's break-out role in the 1970s disco classic "Saturday Night Fever," or the movie musical "Grease."
Sliwa echoed Kasman's sentiments.
"He's soft and everyone knows he is soft," Sliwa said of Travolta. "He isn't hardcore, he isn't a knuckle dragger, but he wants to be part of them so badly."
Sliwa also wondered if the actor knew what he was getting into by getting so close to the Gotti family, particularly now that he has involved his wife Kelly Preston and daughter Ella Bleu in the film. Preston will be portraying Gotti's wife, Victoria, and his daughter will be playing one of the Gotti daughters, Angel.
"Travolta and his entire family have now plunged in," Sliwa said. "I think it is reaching the point of idolatry. What he doesn't know is you have to pay complete allegiance to them, or you're perceived as the enemy."
Lawyers for John Gotti Jr. did not return calls requesting comment.
The movie also stars "X-Men" actor Ben Foster as Junior, Al Pacino as Gambino family underboss Aniello Dellacroce, and none other than Lindsay Lohan, in her first significant role in four years, as Junior's wife, Kim. The movie is expected to open in late 2012.
John Gotti became the boss of the Gambino crime family in 1985. He was acquitted of murder and racketeering twice, earning him the nickname Teflon Don, but was finally convicted in 1992. He died of throat cancer in prison in 2002.