Jennifer Lawrence and Jen Aniston top FOX411's Breakout Babes of 2012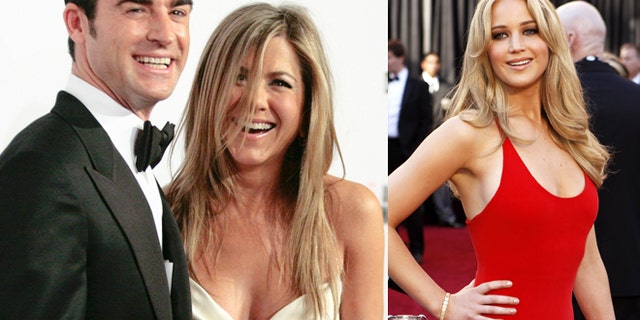 Some of them caught our attention with their brains, some with their bods, and some with both. Bottom line: in 2012, these gals could not be ignored.
Jessica Chastain turned bad-ass terrorist chaser in "Zero Dark Thirty." "Girls" creator Lena Dunham got us with her sassy everygirl attitude. And Jen Aniston, well, she finally found her lobster.
Check out FOX411's picks for our Breakout Babes of 2012.
10. Naomie Harris and Berenice Marlohe (tied)
Two new Bond babes were one big reason "Skyfall" was one of the the biggest movies of 2012. Berenice landed the role of Séverine after first being thought be too tall for the role. And after a number of small roles and a meaty part in "28 Days Later," Naomie landed the recurring role of Eve Moneypenny. Berenice's role, unfortunately, will not recur. (Ouch.)
9. AnnaSophia Robb
Girls across the nation sighed when they learned they'd be able to visit fashion-hero Carrie Bradshaw as a kid. The 19-year-old "Charlie and the Chocolate Factory" star is currently filming the role that Sarah Jessica Parker perfected, in the CW's "Sex and the City" prequel, "The Carrie Diaries." She's adorable in her outfits and seems to be filling Carrie's size 7 shoes just fine, tweeting often that she loves the gig.
8. Hilaria Baldwin
What a saint. It must take a lot of patience to be married to the Alec Baldwin, but Hilaria (pronounced ee-laar-ee-aa) is gorgeous, 28 and a healthy-minded person who is changing the "30 Rock" star for the better. The yoga-loving newlywed claims she had no clue who Alec was when they met in 2011, because she had never owned a television. They ended up on a first date just days later and tied the knot in June. Gee, wonder what he sees in her?
7. Krysten Ritter
The goth looking ex-model first turned heads as the dark heroin addict Jane who overdosed on "Breaking Bad." Since then she has found mainstream success starring on the ABC sitcom, Don't Trust the B--- in Apt. 23." She's now being followed by photographers who want to catch her kooky outfits while she's out and about in Hollywood. (In a year, she'll resent them.)
6. Brit Marling
This classic beauty is a Georgetown alum who graduated with honors, then turned down a job at Goldman Sachs to write and produce the sci-fi flick "Another Earth," which went to Sundance in 2011. She was also phenomenal acting alongside Richard Gere as his feisty daughter in "Arbitrage" and will appear in four more movies in the next two years. Keep an eye on her.
5. Jessica Chastain
We saw Chastain in "The Tree of Life" and "The Help," but the gorgeous redhead broke out big time with her Oscar-worthy performance as Osama bin Laden's worst nightmare in "Zero, Dark, Thirty." Oh, and she was also PETA's Sexiest Vegetarian of 2012. That's called range.
4. Selena Gomez
The on-again off-again girlfriend of Justin Bieber has Beliebers up in arms because she has the one thing they all want -- the "Baby" singer's heart. Gomez shed her "Wizards of Waverly Place" little girl image this year, emerging in sexy, grown up looks on the red carpet. Not only does she call the shots with Bieber, he also admitted to Oprah that he loves that his gal is "so genuine" in addition to being pretty. So he has the money, she has the power. Well played.
3. Lena Dunham
The 26-year-old creator, director and actor on HBO's "Girls" made flaunting naked un-model-like bodies sexy. Throw in a $3.7 million book deal with Random House, and you have a whole new level of hipster hot.
2. Jen Aniston
Our favorite "Friend" has always been a babe but we're throwing her on here because she's had a rebirth in 2012. After surviving the most humiliating, most public dumping ever by her ex-husband Brad Pitt, who ran off with Angelina Jolie after filming "Mr. and Mrs. Smith," America's sweetheart has finally found true love. She even teared up talking about her fiance Justin Theroux on her pal Chelsea Handler's show, where she showed off the enormous sparkler he slid on her finger in August. Plus, she's still got the bod, even at 43. Yoga and margaritas work, apparently.
1. Jennifer Lawrence
Lawrence has managed to avoid being type cast while starring in one of the biggest trilogies of all time, "The Hunger Games." She's slowly revealing her acting chops in a range of roles on the big screen, and is currently getting rave reviews for her role in "Silver Linings Playbook" alongside former Sexiest Man Alive Bradley Cooper. Lawrence, a self-described "fat actress" was also voted the world's most desirable woman by the website AskMen. She even has Howard Stern's stamp of approval, with the shock jock calling her "mesmerizing." Talk about covering your bases.