Jennifer Lawrence admits she's still in love with ex Darren Aronofsky, talks Chris Pratt affair rumors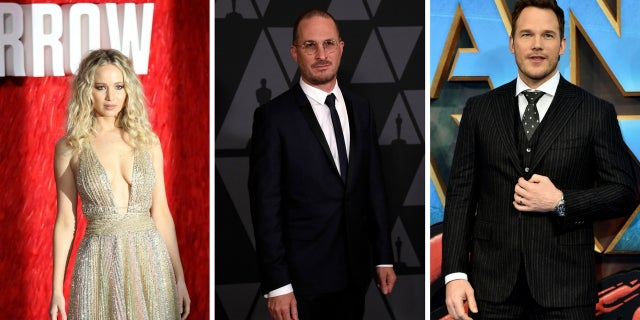 Jennifer Lawrence admits she is still in love with her ex-boyfriend Darren Aronofsky and addressed affair rumors regarding actor Chris Pratt in an interview Monday.
The Academy Award-winning actress told comedian Marc Maron on his "WTF" podcast how she felt when she first met Aronofsky, Us Weekly reported. The two worked together on Aronofsky's box office bomb "Mother!"
"He flew in, pitched me, left," Lawrence said. "The whole thing was probably an hour and a half, and then I was like, 'He's hot'."
Lawrence said the duo did not get together for about nine months after their first meeting.
ANNA FARIS ON CHRIS PRATT-JENNIFER LAWRENCE CHEATING RUMORS: 'I DIDN'T THINK IT WOULD BOTHER ME'
"I remember I was holding my dog and I shut the door and when the door shut I went, 'Pippy, that's called sexual tension'," the "Red Sparrow" star said. "He played hard to get for like nine months, maybe longer, which just killed me."
The director and actress dated for about a year until they announced their split in October 2017. Despite the breakup, Lawrence said she still loves Aronofsky "very much."
"I still love him very much," Lawrence said.
The actress explained she has a good relationship with all of her former flames.
"I'm friends with all my exes, actually. For the most part, yeah," she said. "I have a theory. I think it's because I'm blunt. I don't think that you can have any sort of bad relationship with anybody if you're just blunt. Everybody always knows how you feel at all times and there's no lying, it's just honesty. Everybody's a good guy to each other. All my boyfriends have been wonderful. Nick [Hoult, of 'Mad Max: Fury Road'] was a great boyfriend."
JENNIFER LAWRENCE SLAMS DEMS, ADMITS IT'S 'NOT WISE' FOR CELEBRITIES TO TALK ABOUT POLITICS
The "Hunger Games" star explained she is "not left a sobbing mess after a split" because she is "attracted to good people."
"Every time I go through a breakup, it's not like my heart isn't broken," Lawrence said. "They just never did anything to, like, devastate me. They were just good people. Maybe that's also the secret. I'm attracted to good people."
Lawrence also addressed the rumors that circulated following Pratt's divorce from actress Anna Faris. Rumors stated Lawrence and Pratt were having an affair while filming the movie "Passengers."
"I never had an affair with Chris Pratt on 'Passengers'," Lawrence said. "That's a good one."
"I mean, they got a divorce like two years later and everybody was like, [shouting] 'Jennifer Lawrence!' And I was like, 'What the … what? I'm in Montreal two years later.'"
Faris and Pratt announced in August they were legally separating after eight years of marriage. Faris opened up about the cheating rumors in her new memoir "Unqualified" writing that despite knowing her husband had been faithful, the rumors were still hurtful.