Jason Aldean and wife Brittany expecting baby No. 2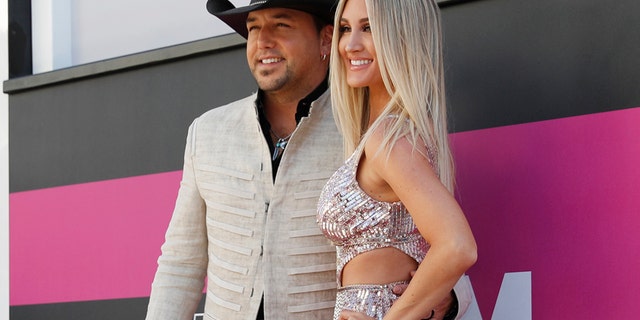 Jason Aldean and his wife Brittany Kerr are expecting again.
The country singer took to Instagram to reveal the big news.
"Sup everybody....... guess who is gonna be a BIG brother! #thisdude #aldeanpartyof6," Aldean wrote along with a picture of his son Memphis.
His wife Brittany also shared the same photo and captioned it, "Here we go again!"
Aldean, 41, and Kerr, 30, welcomed son Memphis on Dec. 1, 2017. It was the first child for the couple. Aldean has two daughters from a previous marriage.
Kerr previously opened up about their struggle to conceive prior to welcoming their son.
"It was the longest process," Kerr said of going through IVF on an episode of the "Babes and Babies" podcast in April, according to People. "It was such a roller coaster and I ended up, through it all, having endometriosis. After a year and a half of trying, they're finally like, 'We think you might have endometriosis.' I'm like, 'Uh … after all that, are you kidding me?'"
She continued, "The IVF was probably harder than the actual pregnancy, for me, because it was just such a roller coaster and so difficult. It's such high highs and such low lows, and no one really knows that you're going through it all so you have to just put on a game face and pretend that you're not giving yourself shots in your stomach every day, all day."