How Lori Loughlin's 'Full House' co-stars are reacting to college admissions scandal
"Full House" fans are keeping a close eye on cast members' social media feeds this week after one of their colleagues, Lori Loughlin who plays beloved "Aunt Becky," was named in a federal investigation into a college admissions scam that rocked the country Tuesday.
Loughlin, 54, and her fashion designer husband Mossimo Giannulli were both indicted in the case and were each released this week on $1 million bond. They were accused of forking over $500,000 to ensure their two daughters, Isabella, 20, and Olivia Jade, 19, would get accepted into the University of Southern California as crew team recruits — despite allegedly never having actually participated in the sport.
While celebrities across the Hollywood spectrum commented on the case (mostly in mocking tones), the stars of the hit 80s and 90s TV sitcom and its reboot "Fuller House" mainly remained mum on the matter. But that didn't stop fans from speculating and pulling apart the meanings behind some of their recent posts.
LORI LOUGHLIN, FELICITY HUFFMAN'S MUG SHOTS: WHY WON'T THEY BE RELEASED?
Here's a look at how some of the stars of the show have responded so far.
Andrea Barber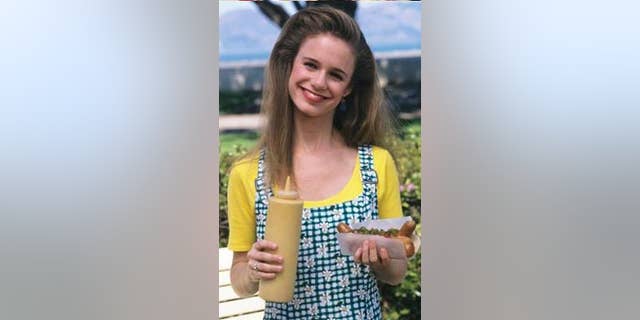 Andrea Barber, who plays D.J. Tanner's best friend Kimmy Gibbler on the show, didn't directly comment on the incident but she did "like" tweets that mentioned the scandal's impact on the "Fuller House" cast.
"I am not gonna say much and you know what I am referring to, but I am thinking about you and the rest of the Fuller House cast and crew as we try to process the unfolding events of today. ((Hugs!))," one tweet Barber liked read.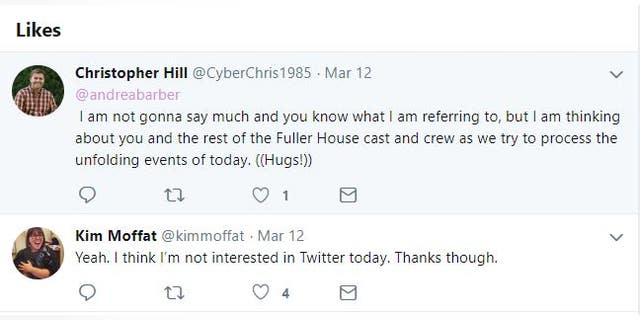 "Yeah. I think I'm not interested in Twitter today. Thanks though," another tweet Barber also liked stated.
John Stamos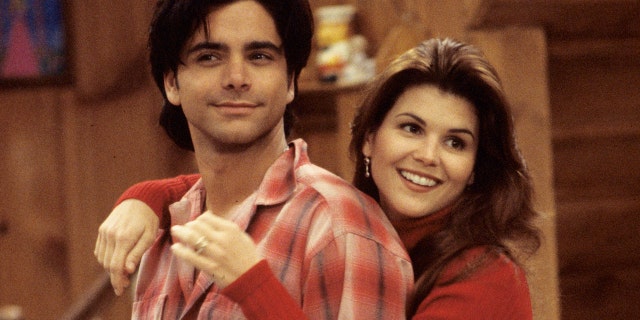 While exiting an Italian restaurant in Beverly Hills Tuesday night, a camera crew from TMZ asked John Stamos (Uncle Jesse) to share his thoughts on Loughlin's arrest.
Stamos shook his head and repeated, "No comment. No comment."
"What do you think's going to happen to her? Should her kids still be able to stay in the schools? Anything? Any words for her?" the cameraman asked, though Stamos remained silent.
He later sped off in a vehicle while flashing a peace sign, TMZ reports.
Jodie Sweetin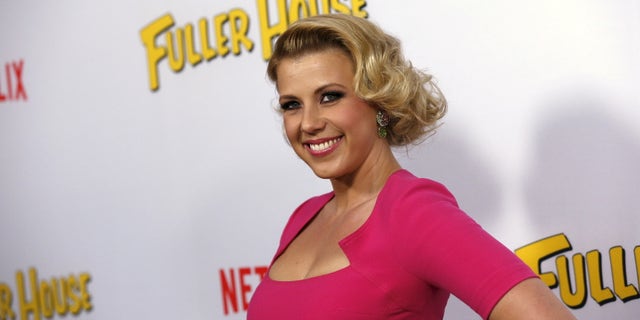 Similarly, Jodie Sweetin (Stephanie Tanner) didn't have a comment when asked about her opinion on Loughlin's alleged involvement this week.
A TMZ cameraman asked Sweetin about the scam as she arrived at Los Angeles International Airport (LAX).
WILL LORI LOUGHLIN'S DAUGHTER OLIVIA JADE BE EXPELLED FROM USC
"Can I just ask you one question?" the videographer asked.
"No," Sweetin replied, as she put her sunglasses on. The star walked then kept walking.
Candace Cameron Bure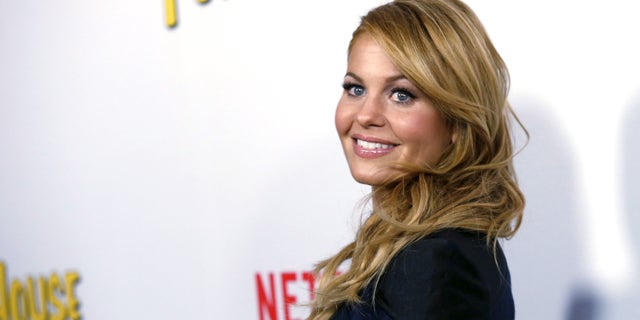 Candace Cameron Bure, who plays D.J. Tanner, hasn't publicly said anything about the scandal yet. But she did post a cryptic message on Instagram that many fans believe is related to Loughlin's arrest — though it could just be a bizarre coincidence.
In her Instagram Story Wednesday, Bure posted a message in honor of Lent that discusses the meaning of being merciful.
"Merciful: undeserved kindness instead of punishment," the definition reads. "Even though we are sinners who should be punished, God's mercy is available to us because of Jesus' sacrifice on the cross. What amazing news!"
FELICITY HUFFMAN, LORI LOUGHLIN MOCKED BY FELLOW CELEBRITIES OVER COLLEGE ADMISSIONS CHEATING SCANDAL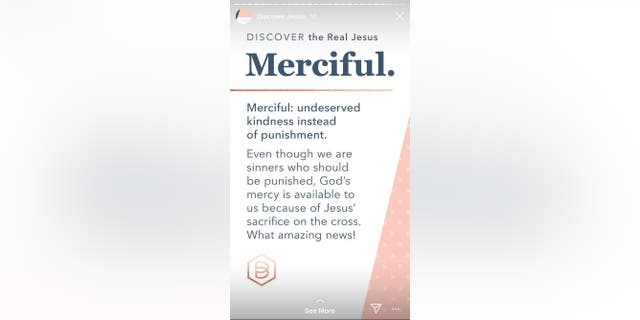 According to Good Housekeeping, Bure disabled followers from commenting on her Instagram posts after news about the elite scam broke.
On Thursday, Bure transitioned to the phrase "Prince of Peace," which discusses the importance of finding inner peace.
Bob Saget
Bob Saget, who plays father Danny Tanner on the series, appeared on "Jimmy Kimmel Live" the day the scandal was revealed by federal authorities — but the late-night host curiously never asked Saget about the controversy.
The appearance by Saget, 62, on Kimmel's show was apparently just a coincidence. Saget was there to promote his new show, and Kimmel (a friend of Saget's) never pushed the subject.
Kimmel did, however, address the controversy in his opening monologue. He joked that "Aunt Becky" could have been the "'Becky with the good hair' Beyoncé warned us about."
Fox News' Joseph A. Wulfsohn contributed to this report.