HBO under fire for relationship with Manny Pacquiao after anti-gay remarks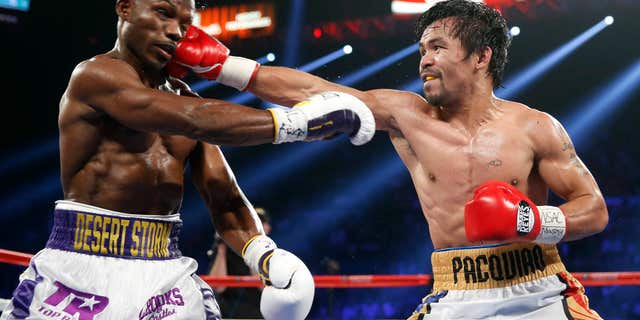 NEWYou can now listen to Fox News articles!
HBO is facing backlash for working with Manny Pacquiao following his February comments in which he said homosexuals are "worse than animals."
According to The New York Post Friday, HBO released a statement following his remarks saying it "deplored" Pacquiao's behavior, but planned to air his pay-per view bout against Timothy Bradley Saturday. The network said it had an "obligation" to both fighters.
HBO is still deciding whether to end its relationship with the Filipino fighter, the Post reported. Senior network sources told the paper that HBO executives are hoping to avoid a bigger situation because Pacquiao announced he planned to retire after the Bradley fight.
"As of now I am retired," Pacquiao said after his win over Bradley. "I am going to go home and think about it but I want to be with my family. I want to serve the people."
The network has a reputation for airing landmark LGBT programs such as "Angels in America to "The Normal Heart." Should Pacquiao come out of retirement, HBO could face a tough decision.
The Post reported Thursday that LGBT leaders planned to have a press conference Saturday to boycott the fight and appealed to HBO to cut ties with the boxer until he apologized for his comments.
"HBO are hedging their bets. It's understandable, but disappointing," Brooklyn Community Pride Center executive director Floyd Rumohr said. "If they could follow Nike's lead, why the ambiguity? Let's make a decision and move on."
Nike cut ties with Pacquiao after he made the statement on Philippines TV.
If it was Pacquiao's last fight, he goes out as one of the biggest pay-per-view attractions in the sport. Pacquiao headlined 22 pay-per-view fights, generating more than 18 million buys and $1.2 billion in PPV revenue.
His next career probably won't be as lucrative, with Pacquiao running for the Senate in elections next month in the Philippines. Should he win — and he is one of the favorites — it would be almost impossible to remain an active fighter.
Pacquiao said in the days leading up to the fight that his family — particularly his wife — wanted him to retire.
The Associated Press contributed to this report.
Click for more from the New York Post.