Graceland Vigil Marks 33 Years Since Elvis' Death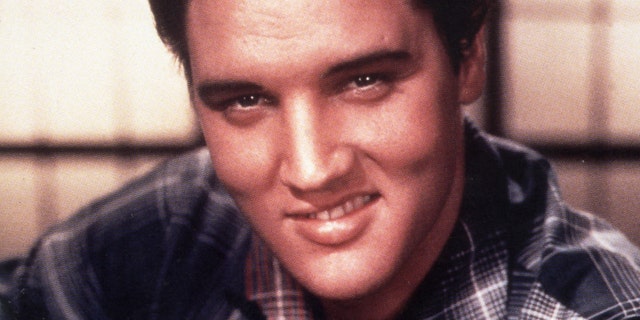 MEMPHIS, Tenn. -- Candles flickered in the balmy night as thousands of Elvis Presley fans filed silently by his grave during a vigil at Graceland, marking 33 years since the American icon died.
Elvis admirers from around the world descended on Elvis' former home Sunday night to attend an annual candlelight vigil and procession that ran into Monday morning. Presley died at age 42 at his Graceland mansion on Aug. 16, 1977. Memorials started the following year.
Elvis ballads like "If I Can Dream" and "Fools Rush In" played as participants solemnly filed in through the gates. Flowers and photos lined the entrance to the grave site, which also is the resting place of Presley's father Vernon, his mother Gladys and grandmother Minnie Mae. Some wiped away tears as they walked past the graves.
Participants defied high heat and humidity that continued into the night.
Standing outside Graceland, Thomas Hollis, 52, said he thought of his wife, who passed away in May from cancer. It's his sixth Elvis vigil, but the first without his wife. Sunday was the couple's 13th wedding anniversary.
Hollis' granddaughter carried a candle for his wife.
"This vigil is kind of like for Elvis, and kind of like for her, too," said Hollis, of Louisville, Ky. "It's rough this year ... I've been through down times myself for a while, but I listen to his music and it keeps me going."
The nighttime procession is the highlight of a weeklong series of fan-club meetings, film showings and Elvis tribute artist contests. Elvis purchased the 13-acre Graceland property in 1957 for a song — just a bit more than $100,000.
As night fell, fans took residence on Elvis Presley Boulevard, setting up folding chairs in the street after police closed the thoroughfare to traffic. Children wrote messages in purple, yellow and green chalk reading "We Miss Elvis" and "Elvis Lives 2010."
Wim Postmus arrived last week from the town of Maarssen in the Netherlands. He came three years ago for the 30th anniversary vigil but gave up after spending many hours in line without even making it inside the walls.
The 47-year-old Postmus, who said Elvis' music helps him get happy when he's depressed, made the trip despite losing his job in financial administration earlier this year.
"It doesn't matter," he said. "I saved for it."
Before the procession, fans from as far as Japan and England browsed Graceland's sprawling souvenir shopping center and gathered under a large tent across the street from the mansion to listen to performers belt out Elvis tunes.
Dozens of multicolored but empty chairs lined the walls of Graceland on Sunday afternoon, their early-arriving owners seeking refuge from 100-degree temperatures at water stations.
Shelley Somerville flew from Australia with her husband for their honeymoon. Hours before the procession, she held an umbrella to shield herself from the sun. It's the third candlelight vigil for Somerville, who said she likes Elvis' gospel music the most.
"Elvis has touched a lot of hearts, and there's something spiritual about him," said Somerville, a 31 year-old administrative assistant. "There's a calming feeling around him."
The week's festivities included conversations with writers, photographers and close friends of Elvis, including Joe Esposito, part of the Elvis entourage nicknamed the "Memphis mafia."
Paul Fivelson came from Chicago to meet a buddy he met at the vigil three years ago. Wearing shorts and a black Elvis Week T-shirt, Fivelson said he likes to be near the front of the line to meet interesting people as they walk by the famous stone wall, which has personal messages from fans written on it.
Fivelson, 58, said he takes pride in being "a die-hard Elvis loyalist" who listens to the American icon's music every day. His granddaughter's name is Presley.
"I miss him, I loved him," said Fivelson, a substitute teacher. "To be part of the Elvis experience and the aura of the whole thing, just means everything in the world to me."