Florence Henderson: 'I made a lot of money' off Snickers 'Brady Bunch' commercial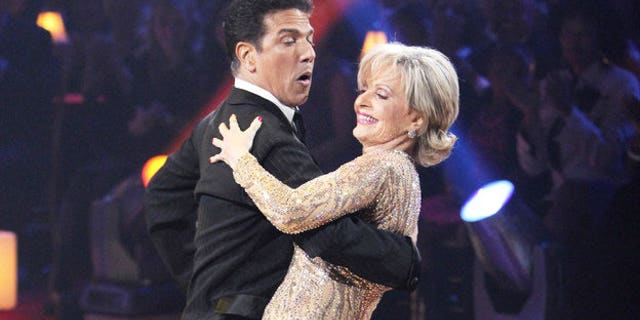 Beloved "Brady Bunch" mom Florence Henderson has embraced her status as a TV icon and is laughing all the way to the bank.
A wacky Snickers commercial that used an old show clip featuring Henderson, now 81, as Carol Brady and the late Robert Reed as her husband Mike caused a sensation by morphing in tattooed "Machete" actor Danny Trejo as Marcia and Steve Buscemi as Jan recreating the "Marcia, Marcia, Marcia!" meltdown.
It first aired Super Bowl Sunday and has been shown many times since. When asked about the ad by FOX411, Henderson laughed, "I loved it. I made a lot of money."
FOX411 caught up with the veteran star at Tuesday night's party in West Hollywood for the 10-year anniversary of "Dancing With The Stars".
Henderson, who competed on the dance competition in 2010's Season 11, finishing eighth, is set to put on her ballroom shoes again, saying, "I'm getting ready to go in June on two cruises on Holland America doing [the] 'Dancing with the Stars' [summer tour]."
Henderson originally performed with Corky Ballas on the show. This time, she said, she'll probably be teamed with dance pro Tristan MacManus, "who's pretty darn good, too."
With Mother's Day approaching May 10, the famous TV mom reflected on her own family life. "Some people say, 'What are you proudest of in your career?' and I've said, 'In my career, that's one thing but in life, my four children—and my five grandchildren.'"
Henderson said being a mom "makes you far more compassionate. You have more empathy for people, more love."
She said "I was always taught to say thank you and I'm very grateful. And my kids have that quality, too."
Henderson cherishes gifts from her children: "A little eyeglass holder my daughter made for me, a box with shells glued to the top. I've received so many gifts [from my kids] and I keep them all."
When asked how she stays so young-looking, "The Brady Bunch" star told FOX411, "I just enjoy life and try to think straight and eat right and I exercise a lot."
And the commercial residuals don't hurt, either!