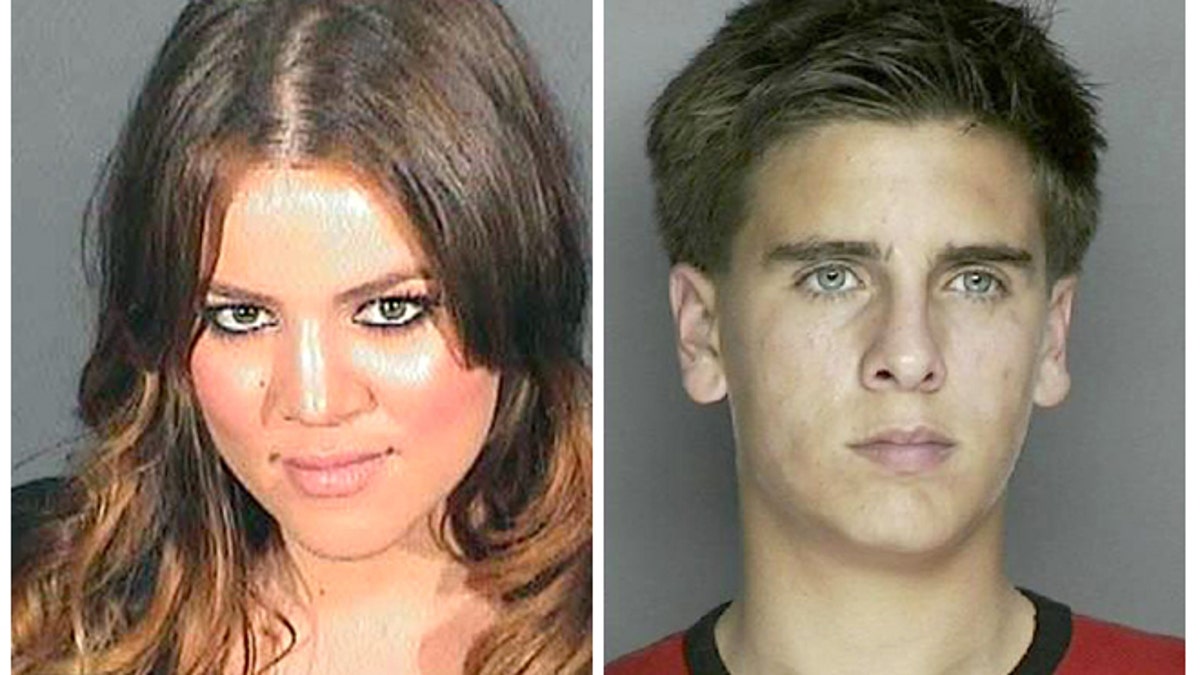 LOS ANGELES – Last week, Khloe Kardashian celebrated the birthday of her sister Kourtney's boyfriend Scott Disick with an Instagram photo of side-by-side mugshots of herself and Disick, gleefully referring to him as her "partner in crime."
Both shots were from DUI arrests.
Kardashian served less than three hours on her 30-day sentence in 2008 while Disick was arrested in 2001 in New York and pled guilty to a non-criminal charge.
Just a few weeks earlier, former "90210" star Jason Priestley high-fived late night host Chelsea Handler over their respective DUI arrests, quipping: ""What self-respecting Los Angeleno doesn't have a DUI under their belt?"
The crowd might have cheered, but both incidents have others outraged.
"Drunk driving is a serious crime with serious, life-altering consequences. It is never a laughing matter," Jan Withers, National President for Mothers Against Drunk Driving (MADD),whose 15-year-old daughter was killed by an underage drunk driver, told FOX411. "It's very concerning to see celebrities making light of getting a DUI."
According to the National Highway Traffic Safety Administration, alcohol-impaired driving crashes claimed 10,933 lives in the U.S. in 2012. This was a big increase from the previous year, in which 9,865 people died.
But Hollywood's tendency to make light of the serious offense is hardly limited to Kardashian and Priestly.
Following the news that Justin Bieber was arrested for DUI in Miami in January, a slew of stars joked about it, including actor Rainn Wilson, who wrote that's he's "starting to miss the young, adorable mop bucket peeing, house egging & strip club raging Bieber of 2013" along with the hashtag #DUIeber. Meanwhile, Ricky Gervais tweeted a comical picture of himself with a beer in the bathtub along with the caption "Bathing under the influence. I'm your Bieber now."
Lindsay Lohan also mocked her own drunk driving history on "SNL" in late 2012 in a skit with cast member Kenan Thompson pulling her over with a flashlight, and Jimmy Fallon played on her repeated failures to show up for court and community service.
In popular performer Kid Cudi's "Pursuit of Happiness" he sings "I don't care, hand on the wheel, driving drunk… out living my life getting out dreams," while Kanye West raps in "Power": "I was drinking earlier, now I'm driving… I got the power to make your life so exciting."
"When celebrities joke about their crimes, it conveys that this behavior is normal. This is exactly the wrong message to send about DUIs. Celebrities must remember that they are role models," said attorney Larry Bodine of LawMarketing.com. "Pretending to be above the law and becoming a public disgrace have become pathetically normal for Hollywood stars."
Yet the judicial system has proven time and time again that a famous face can get off the hook fairly easily, which experts say makes it even more likely stars will joke about such offenses and not really understand the consequences. For example, Nicole Richie served just 82 minutes of her DUI offense in 2007. And according to TMZ, Bieber is nearing a plea deal for his underage escapades in which prosecutors will likely drop the DUI, resisting arrest and driving without a license charges.
But according to an LAPD insider, there is no bias shown toward a big name when pulled over or arrested on suspicion of drinking under the influence, although some still pull the "don't you know who I am" card.
"For the cop on the street, they handle it by numbers," said the source. "Usually when a celeb is arrested, it sets off a chain of notifications throughout the arresting agency. So all the bosses know."
In April, the LAPD announced that DUI checkpoints and patrols would be hitting Hollywood. So celebrities, remember: Famous friends don't let a famous friend drive drunk.
Follow @holliesmckay on Twitter.