Elvis Presley 'Live' Like You've Never Seen Him! With holographic technology, that could become a strange reality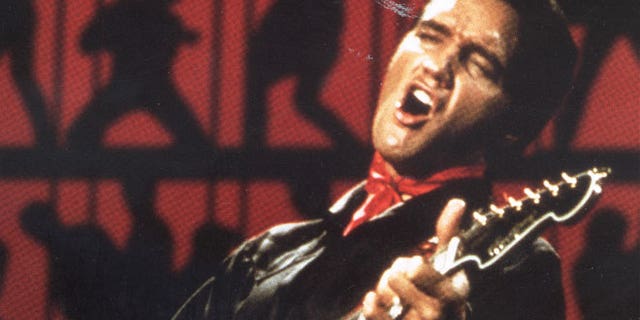 NEWYou can now listen to Fox News articles!
Elvis Presley: Live at the Bellagio.
It could happen. Kind of.
The haunting hologram of Tupac Shakur, which lit up the stage at California's Coachella music festival last weekend, is just the beginning of a new and lucrative revenue stream that could soon be available to dead celebrities, known in marketing circles as "delebs."
Hologram imaging has been around for awhile, but this past weekend was the first time a truly lifelike image of a deceased personality was able to truly wow the crowd.
Shakur's hologram hollered to the masses: "What up, Coachella!" and then joined the rapper Snoop Dog for "Come With Me," "Hail Mary" and "2 of Amerikaz Most Wanted."
His holographic image and performance was 100 percent original, not cobbled or adapted from video of past performances. Which means any dead star, doing anything onstage, is now feasible.
The show was so impressive that Snoop and his cohort Dr. Dre are now considering taking the holographic Shakur along with them on tour, according to the Wall Street Journal.
This technology, perfected by Digital Domain Media Group, opens the door for the estates of dead celebrities to ink business deals that could net them millions of dollars. Many dead celebrities are represented by agents who cut deals for them for everything from endorsements to advertisements ... and now concert tours.
"This is certainly going to be big money in so many ways," explained Mark Roesler, who manages a stable of delebs through his agency, CMG Worldwide. "I can imagine someone organizing a new kind of reunion tour. We already go to Las Vegas to see all of the acts from the fifties, sixties and seventies."
In the early nineties Roesler -- whose stable of delebs includes Rock Hudson, Marilyn Monroe, Clark Gable and Natalie Wood -- helped put together a Diet Coke commercial with Humphrey Bogart, Louis Armstrong and James Cagney where they sang along with Elton John. The commercial won several awards, and was innovative for its time. But it was nothing compared to technology so good that you believed a long-deceased rapper (Shakur was murdered in 1996) was actually performing on the stage with another artist.
"The technology has evolved so much that these celebrities have a lot of new opportunities and the audience can experience them in different ways," Roesler said. "The technology is not only more lifelike now but it is also more cost-efficient. As it keeps becoming more of both we will definitely see more of it."
A spokeswoman for Digital Domain declined to talk about the technology.
"Since there's another performance next weekend, Dr. Dre's camp (and we!) want it to be as magical for those fans as it was this weekend, so we¹re not able to share additional details just yet," rep Julie Miller told Fox411.
The other good thing about hiring a deceased star versus a living one if you are booking a concert tour or putting together an ad campaign?
Dead celebrities are a lot cheaper.
Roesler helped to put together a Super Bowl commercial for the shampoo company Sunsilk that included living singers Madonna and Shakira along with the long-deceased Marilyn Monroe.
"Marilyn could only command a fraction of what Madonna could command, and even less than someone like Shakira," Roesler said. "The reality is there is a step down in the type of renumeration they can get. But that is just the reality of being a celebrity. There are times when you can get paid a fortune to do what you do, and then that window closes."
(Death being the ultimate closed window.)
But partial compensation is better than none when it comes to administering a dead star's estate. Holographic technology could allow a performer to perform years past the date on their tombstone. We could soon see hologram tours of Michael Jackson, or the very recently deceased Whitney Houston, or maybe a Nirvana reunion fronted by Kurt Cobain's hologram.
James Dean, another of Roesler's clients, once said that "if a man can bridge the gap between life and death, if he can live on after he's dead, then maybe he was a great man."
"The definition of a career used to only encompass when somebody was a live," Roesler said. "Now we will be faced with understanding that he definition of career isn't just when you are alive but it goes on after you pass away."