Did Emmys 2014 host Seth Meyers play it too safe?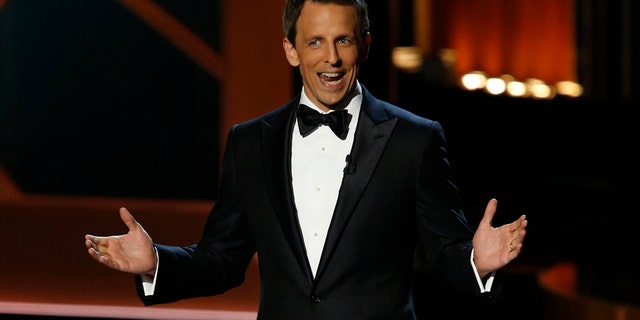 Seth Meyers continued his breakout year Monday night as the host of television's biggest night, the 66th Primetime Emmy Awards.
Hosting a major awards show is ostensibly an honor, but increasingly, in the world of live-tweeting, a thankless assignment — and one that was made even more tedious by the fact that this year's Emmy telecast occurred on a Monday. Did Meyers rise to the occasion?
The first-time host told E! on the red carpet before the show that he'd focus his barbs on "what's happening in the world of television," as opposed to taking stabs at individual shows or actors, and held true to his word.
Emmys: Who took home the biggest prizes?
Reflecting on Sunday's VMA Awards — which bumped the Emmys to a Monday night for the first time in nearly 40 years — Meyers lampooned the irony of MTV handing out awards for music videos, which are at best a rarity on the channel anymore. "That's like network TV holding an awards show and giving all the trophies to cable and Netflix," Meyers quipped. "That would be crazy."
Among his more barbed jokes was a stab at "Orange Is the New Black" — which raised eyebrows when it was submitted in the comedy category. "We had comedies that made you laugh, and comedies that made you cry ... because they were dramas submitted as comedies," Meyers quipped.
By adopting the same play-it-safe approach he used as the host of "Saturday Night Live's" "Weekend Update," Meyers went for chuckles, not guffaws, and succeeded in being inoffensive — but also, in the process, more like a warm-up act than the main attraction. Even Ricky Gervais was more pointed during his presentation of Best Writing for a Variety Special, taking a jab at four-time winner Jim Parsons, who beat him in the Best Lead Actor in a Comedy category.
Red carpet hits and misses: Who were the best and worst dressed at the Emmys?
And that's unsurprising. As the newly minted host of "Late Night with Seth Meyers," Meyers faces the same rock-and-a-hard-place quandary that previous hosts Ellen DeGeneres, Jimmy Fallon, Jimmy Kimmel and Conan O'Brien have gone up against: He will find himself interviewing many of the nominees (or at least requesting an appearance from them) on their own shows. So, maybe that's why the Academy should look outside the realm of talk shows for hosts in future years? I'd like to nominate Julia Louis-Dreyfus, personally — but that's another conversation.
All this is not to say that Meyers was a poor host. His "Weekend Update"-style opening monologue consisted mostly of one-liners and his signature smirk, after a beat. Among the more noteworthy:
-"HBO is like the kid you grew up with who ended up doing way better than you expected."
-"If you're an actor on "Game of Thrones," I imagine you wait for next week's script the way most people wait for biopsy results."
-Advice to showrunners, once a show begins to gain ratings and critical acclaim: "Kill off all the main characters — otherwise, before you know it, you're paying Sheldon a million dollars an episode."
Meyers' best bit by far was a pre-taped Emmy edition of "Billy on the Street" with Billy Eichner, in which the two comedians approached random strangers on the streets of New York City to get their thoughts on the Emmy nominations and snubs. (Spoiler alert: Most people weren't aware/didn't care one way or the other.) A highlight? One man misidentifying Meyers as "Seth MacFarlane." Check out the bit below:
A mock Q&A session with celebrities in the audience was pretty tepid (although who knew Julianna Margulies had comedy chops?), as was an unexpected performance by "Weird Al" Yankovic, who offered his own take on the theme songs from "Mad Men," "Scandal," "Game of Thrones" and other shows. But those segments, by design, took the focus off of Meyers and onto his bench players — an odd tactic for a host, but clearly one borrowed from Meyers' years at "SNL."
In his opening monologue, Meyers cracked that no one remembers the 1976 Emmys because they were held on a Monday. For better or worse, Meyers didn't do anything to help the 2014 Emmys stand out — but maybe that's just what NBC was going for.