Denzel Washington on Simon Cowell's Idol Departure: Who Will Insult People Now?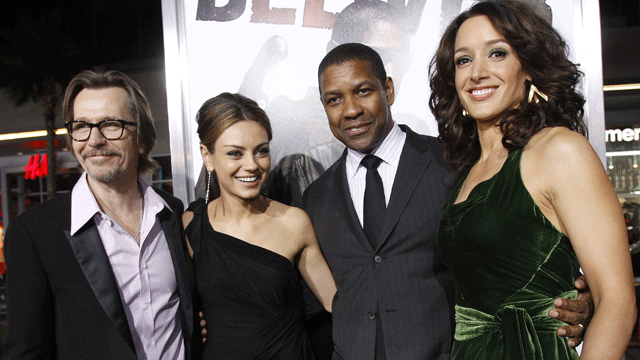 NEWYou can now listen to Fox News articles!
Denzel Washington was surprised to learn while walking the red carpet at the Hollywood premiere of his new flick "The Book of Eli" on Monday night that Simon Cowell had announced the was leaving "American Idol."
"How are you going to have the show without him? Who's going to insult people?" Washington questioned.
But after contemplating the news for a little while, Washington came up with a solid theory as to why Cowell decided not to renew his contract with the hit reality show.
"Is Simon inside? Maybe he left because he had to come see the movie," Washington told Pop Tarts.
Or not.
But the A-lister wasn't the only one questioning how "American Idol" will cope without its most famous caustic critic.
"Simon has been doing the show for quite a while, not just in the States. It's an exhausting situation. I don't blame him for wanting to try something else," veteran producer/director J.J Abrams said at the FOX Television Critics Association All-Star party on Monday night. "I think Idol will probably have to find its footing without him because he's such an anchor, but I'm sure it will end up being great and he'll go on to great success too."
And even though Cowell's sharp tongue has been widely criticized over the years, that very quality is what "Glee" star Jane Lynch will miss most.
"I will miss Simon Cowell because he has such a good eye and such a good ear. Some people find him cruel, but I love how he put things into concise little sound bites that were very apt," Lynch said. "He doesn't suffer fools very well and we'll miss that."
But who knows, Cowell's departure may very well be a blessing in disguise.
"It is both a tragedy and a joy all at once. (Idol) is really losing somebody impactful yet gaining something else," "House" star Olivia Wilde said. "One door opens and another closes in terms of losing Simon. It's a big story but he'll be fine and the show will probably still be great."
"Bones" and "Avatar" star Joel David Moore begged to differ.
"I'm kind of bummed. I don't think I'm going to watch the show anymore," he said. "They lost Paula and she was so fun ... and Simon's a jerk, and you want that. The bubbly Paula and jerky Simon was a good mix. People write TV and movies about that mix so that's what worked for the show. It's about the process and hearing Simon's honest opinion. I agree with him 90 percent of the time. Does that make me a jerk?"