Dennis Rodman says he wants to bring Kanye West with him to North Korea
Kanye West may get an audience with North Korean leader Kim Jong Un in September if Dennis Rodman makes good on his recent promise for an invite.
The former NBA star said Tuesday he wants to bring the rapper with him on his next trip to North Korea, which could happen as early as September. Rodman said he thought of West after the rapper tweeted the former Chicago Bulls player was one of his "biggest inspirations."
"I just know my agent called me and said, 'Dennis, Kanye West gave you a good shout out' I said, 'OK, great,'" Rodman told Us Weekly. "I think he's a big Chicago Bulls fan. I think that he respects me as far as understanding my views. And Kanye, he's doing amazing work around the world so I respect him too."
He added, "So hopefully one day we'll get together and collaborate on certain things. Guess what, I'll take Kanye West to North Korea with me."
WEEPING DENNIS RODMAN PRAISES TRUMP'S MEETING WITH FRIEND KIM JONG UN, BLASTS OBAMA FOR IGNORING HIM
Rodman said he hopes to visit the Hermit Kingdom by September, adding that Pyongyang could be West's next inspiration for a new album.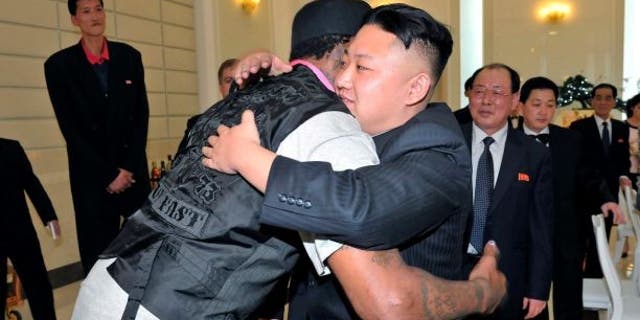 "If the door's open in September, I will invite Kanye West with me to go to North Korea with me … If he wants to make an album about that he'll be there for like six to seven days, and he'll see what's going on. Now, go make a song about this. So here you go," Rodman said.
"The Worm" developed an unlikely friendship with Kim after visiting the despot several times in North Korea. He made multiple trips in 2013, when he held Kim's newborn daughter who has never been seen in public.
Rodman told Us Weekly that his friendship with Kim comes from trust and respect. He recalled a turning point in their relationship when Rodman traveled to North Korea to play basketball on the leader's birthday.
"We respect each other, and I think the most important part about that, when he saw respect in me when I did that thing, the basketball game on his birthday," Rodman recalled. "That's when [Kim] said, 'Dennis, whatever you want. No one's ever done this for me and my family. No one's ever sit there and kept their word.' And I tell people, it's all about trust with them. Trust."
DENNIS RODMAN WANTS NORTH KOREA, GUAM BASKETBALL GAME FOR PEACE
"The Worm" also traveled to Singapore during the Trump-Kim summit in hopes of getting some time with Kim and President Trump. The former NBA player is one of the few people who've met Trump and Kim.
On Tuesday, Rodman gave himself some credit for bringing the two leaders together.
"If anything happens with this whole thing, with North Korea and America, it's amazing how the fact that I didn't do it, I just brought the guys together," Rodman said.