Demian Bichir calls Donald Trump ignorant, Romeo Santos blasts presidential hopeful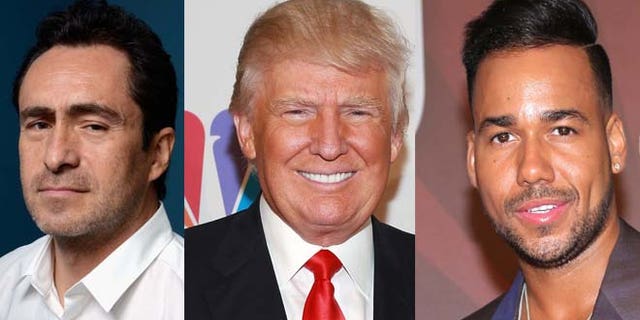 Demian Bichir is not sending any love to presidential candidate Donald Trump and says he is not worried the businessman might make it to the White House.
The Mexican actor told E! News that Trump's hateful comments regarding Mexican immigrants last month are a matter of ignorance.
"He really does not know much about our culture and what Mexicans have done for this country and that we continue to do that," Bichir said of the Republican hopeful. "Just the face that he made those remarks proves again, you cannot buy cleverness at the store. He shot himself in the foot and he's paying for it."
During his presidential bid launch last month, Trump said Mexico does not send its best but instead "rapists" and drug traffickers. His unapologetic statements have caused a firestorm for the businessman whose Miss Universe and Miss USA pageants have been dropped by Spanish-language network Univision and NBC Universal.
Bichir, who is best known in the U.S. for his roles on "Weeds" and "The Bridge," urged people to focus on the "actual immigrants" in the U.S.
"Not only those 13 million undocumented workers, but everyone else," he said. "We all live in this country and there isn't a single day that an immigrant is not involved in our daily lives. They make it better and happier and easier, and it's just absurd to ignore that. Not anymore. We're pushing really, really hard for that immigration reform and whoever brings that to the table, that's where the voters will go."
The 51-year-old actor is not the only celebrity to recently speak out against Trump.
During his concert at Brooklyn's Barclays Center, 33-year-old bachata singer Romeo Santos blasted the presidential hopeful with some choice words.
"F*** Donald Trump," the singer yelled to the crowd. "You got a problem with Mexicans, but they built your f***ing buildings, motherf***er."
Singer Becky G, who is part Mexican, let her music express her outrage when she released her new single "We Are Mexican" last week, dedicating it to Trump.
She told Latina Magazine that everybody is entitled to their own opinion, and wanted her music to speak for itself.
"I just felt like there are many people who have the same story as I do, who have grandparents who are hardworking and came from another place and were brave enough to come here for their version of the American dream," the singer said.
She added: "I think if you listen to the lyrics [of 'We are Mexicans'], I talk about the story of my grandparents coming from Mexico and trying to make something out of nothing … If it weren't for them, I wouldn't be where I am today. That's why I'm so proud of myself and proud of them because if it weren't for them being so brave, I wouldn't be able to do what I do."