Miss Universe won't give up crown because of 'signed contract,' but continues to slam Trump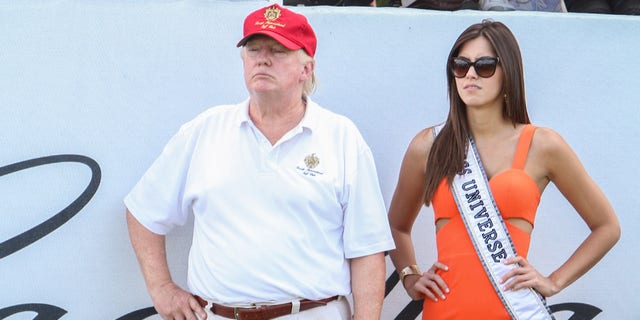 Miss Universe Paulina Vega responded Monday to a tweet by pageant owner Donald Trump in which he called her a "hypocrite" for not renouncing her title when she criticized him over his controversial remarks about Mexican immigrants.
In an interview with Colombian radio station La W, Vega called it a very "delicate" situation in which people forget that she has signed a contract with the Miss Universe organization and it's not the simple to just resign.
"It's not that easy and I obviously don't agree with Donald Trump and the fact that I am not giving up my crown doesn't mean that I don't stand by what I said," said Vega, who suggested she could have been sued by the wealthy businessman had she renounced her crown. "It makes no sense that Donald Trump has called me a hypocrite for the fact that I didn't give up the Miss Universe crown."
Vega's comments come a day after the business mogul called her a "hypocrite" on Twitter after she publically criticized him for saying Mexico only sends rapists and drug traffickers into the U.S. She called his remarks "unjust and hurtful."
"As a Colombian and as Miss Universe, I want to show my support and validate the sentiments of the Latin community," Vega wrote in an Instagram post last week.
On Monday, the Colombian stood behind her comments. But she insisted her position isn't so simple since she has an obligation to fulfill with the Miss Universe organization.
"Miss Universe existed before he was the pageant owner and it will continue to exist if he ever stops owning it," the 22-year-old said. "I will not change everything that is going on in my life because of a presidential campaign – something political that has nothing to do with Miss Universe."
Vega said that while she felt some pressure to issue a statement regarding Trump's remarks from last month, work had to continue.
"The important thing is that the Latino community is on my side, understand my situation and understand that I have a signed contract," she insisted.-+
Trump's remarks have caused widespread outrage over the last several weeks which have prompted television networks Univision, NBC and Mexico's Televisa to pull their support from the Miss Universe organization. Macy's has also pulled their Trump merchandise from its stores, while Panama, Mexico, El Salvador and Costa Rica have pulled out of this year's Miss Universe pageant.
On Monday, the director of the Miss Nicaragua organization Karen Celebertti threatened to not send a representative if the Miss Universe organization did not support Vega as a result of Trump's tweet.
When asked about the various countries pulling out of the next pageant, Vega said it was "unfortunate."
"I think it's sad and unfortunate and unjust that not only the Miss Universe organization and those of other Latin American countries have to fight the broken glass of a political campaign," she said. "To say that no Latin American country should participate, when each of them have a dream and has invested time and money, is something very difficult and very delicate."