Donald Trump calls Miss Universe a 'hypocrite' for criticizing pageant but keeping crown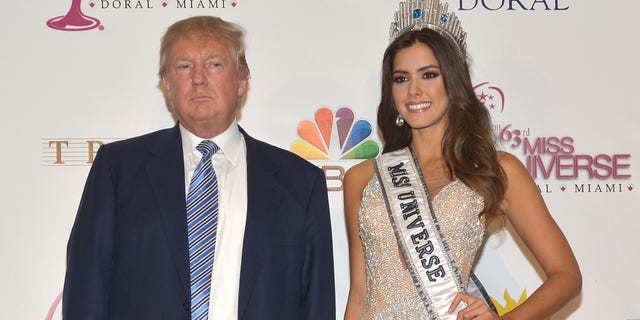 NEWYou can now listen to Fox News articles!
Presidential candidate Donald Trump blasted the current Miss Universe Paulina Vega as a 'hypocrite' for criticizing his remarks toward Mexican migrants, but not giving up the crown.
"Miss Universe, Paulina Vega, criticized me for telling the truth about illegal immigration, but then said she would keep the crown – Hypocrite," Trump tweeted early Sunday morning.
Trump's comments come days after Vega, who won the Miss Universe crown earlier this year, called out the business mogul, who is also the beauty pageant's owner, for his "hurtful and unfair" comments during his presidential campaign launch last month.
In her first public comment, the Colombian beauty queen added her name to the growing list of public figures voicing their disdain for Trump's remarks in which he said Mexico was sending rapists and drug traffickers into the U.S.
"I find Mr. Trump's comments unjust and hurtful. As a Colombian and as Miss Universe, I want to show my support and validate the sentiments of the Latin community," Vega wrote in an Instagram post on Thursday.
Vega said that while she has been under pressure from fans at home and abroad to renounce her title, she had no plans on giving up her crown because of the meaningful social work the Miss Universe organization does in communities around the world.
"I strongly believe that dividing and categorizing humankind only holds it back," Vega wrote. "Acknowledging and embracing the differences that exist across humanity is the first step in real and substantial development. We must strive together in order to improve the common good."
Trump's remarks have caused widespread outrage over the last several weeks which have prompted television networks Univision, NBC and Mexico's Televisa to pull their support from the Miss Universe organization. Macy's has also pulled their Trump merchandise from its stores, while Panama, Mexico, El Salvador and Costa Rica have pulled out of this year's Miss Universe pageant.
The city government of Bogota withdrew its support for a bid to host the pageant in the future.
Like us on Facebook
Follow us on Twitter & Instagram