'Dancing With the Stars': Kirstie Alley's Patriotic Fox Trot, Kendra's Beef With Carrie Ann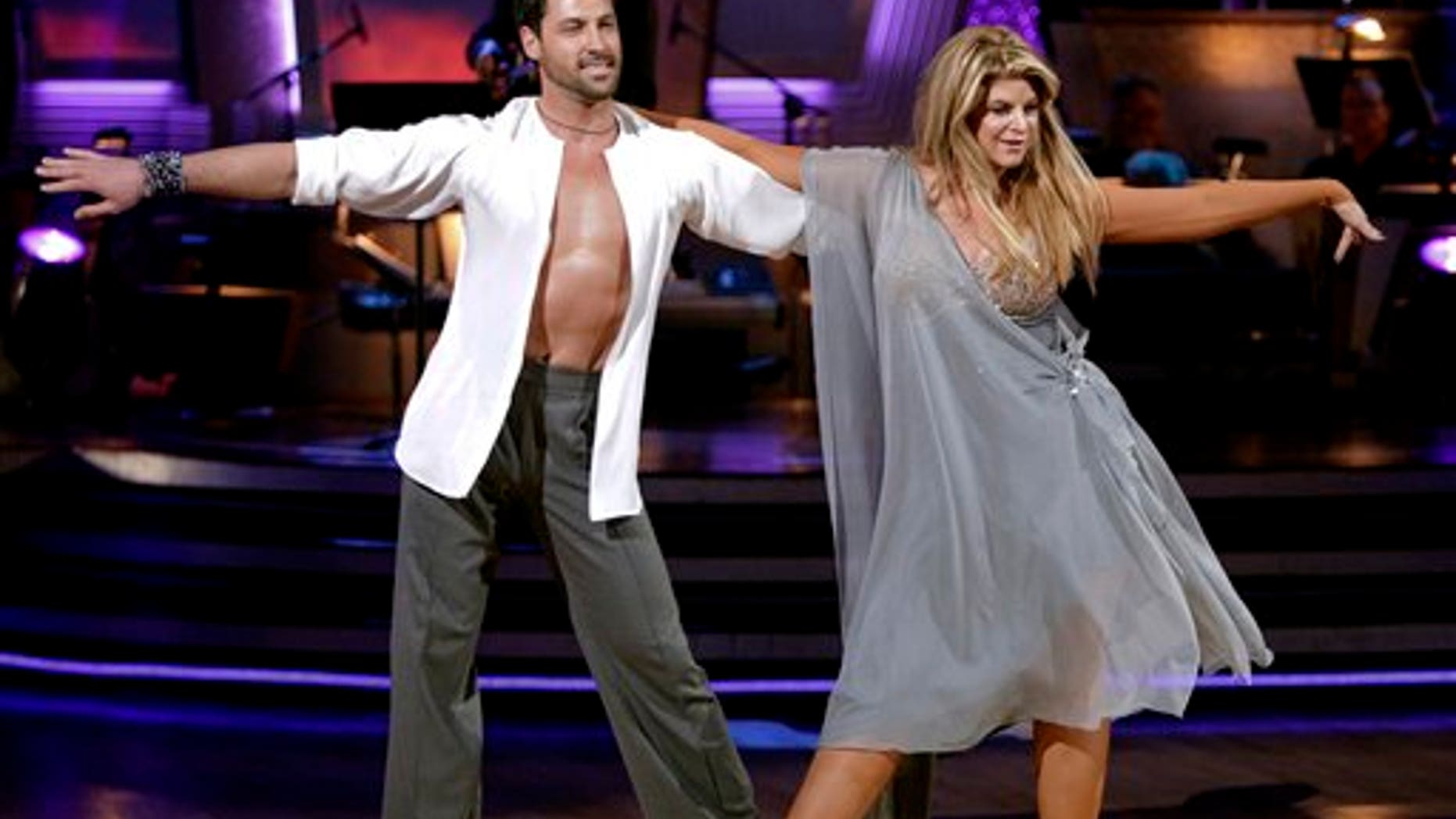 God bless America! It's American week on "Dancing with the Stars" and the top eight couples performed to patriotic tunes to honor the good ol' U.S.A.
Who did America proud?
Plus: Did Kirstie have a mishap for a third week in a row?

Kirstie Alley and Maksim Chmerkovskiy: Foxtrot
Kirstie wants people to know she's in it to win it and hires a dance doctor, aka John Travolta, to help them foxtrot to "American Woman."
"Romantically, what's going on here?" Travolta asks. "Nothing," she says. "There's no romantic tension," he diagnoses. (Anyone else have a Friends flashback?)
Maks is in a wifebeater and leather pants. That is all. No, wait, that's not all. He takes off the 'beater.
I don't think anyone with a pulse is watching Kirstie now. For the parts I did pay attention to, Kirstie did a nice job.
This is not your grandfather's (read: Len's) foxtrot. (Who was the genius who thought a good foxtrot song was "American Woman"?) It's got 'tude to spare and is bold and in-your-face. The best part: No mishap! Yay!
Carrie Ann says it was ambitious and borderline crazy, but it suited Kirstie. "I think it was your best dance ever," she says.
Len says the overall feel wasn't his cup of tea. Typical.
Bruno calls Maks a Russian gigolo. "I didn't know you were so dirty," he coos. And Kelly Preston hearts it too!
Score: 23

Kendra Wilkinson and Louis van Amstel: Foxtrot

Kendra says she's not "f---ing afraid of elegance" and that "Carrie Ann made me feel like trash."
Tell us how you really feel. Since when did "elegance" become taboo?
Louis, patient as ever, talks her back to her senses and she gets it now. For that, they get the honor of performing the show's 1,000th dance. Cue the confetti! I guess we should've figured with Louis' Uncle Sam get-up.
They have "Yankee Doodle Dandy" and enough red, white and blue to last us until the next Fourth of July.
Kendra, for her part, has rebounded from last week's fiasco. It's by no means elegant and technique-wise, she still leaves a lot to be desired, but this time, she actually looks like she's enjoying herself and there's a better flow in her rhythm. She still needs more conviction and sharpness in her steps, however.
Len says it was much better than last week. Bruno says it was sweet as apple pie, but he can still see her thoughts. Carrie Ann says this is the most confident she's ever seen Kendra.
Score: 22
Ralph Macchio and Karina Smirnoff: Samba
They're all country-fied here with cowboy hats, belt buckles and fringe.
Ralph is sort of adorable, but this is more of a country line dance than a samba.
Where are the samba rolls and hip action? He does stay in sync and sells the whole dance with his showmanship, but still, not a real samba.
Len tells him he's inconsistent and lacked rhythm. Bruno cannot disagree because there was no "fire down below." He, of course, would know.
"Give me sex, man!" No, thanks.
Carrie Ann understood the tall order they had in fusing the samba and a country song, and by those standards, she says it was a vivacious performance.
Backstage, Karina suggests Ralph take Bruno out to dinner to woo him for higher scores. "I don't know if you were listening, Ralph, but Bruno just doesn't want dinner," Tom quips.
Score: 22
CLICK HERE FOR THE FULL RECAP OF LAST NIGHT'S EPISODE
MORE FROM TVGUIDE: