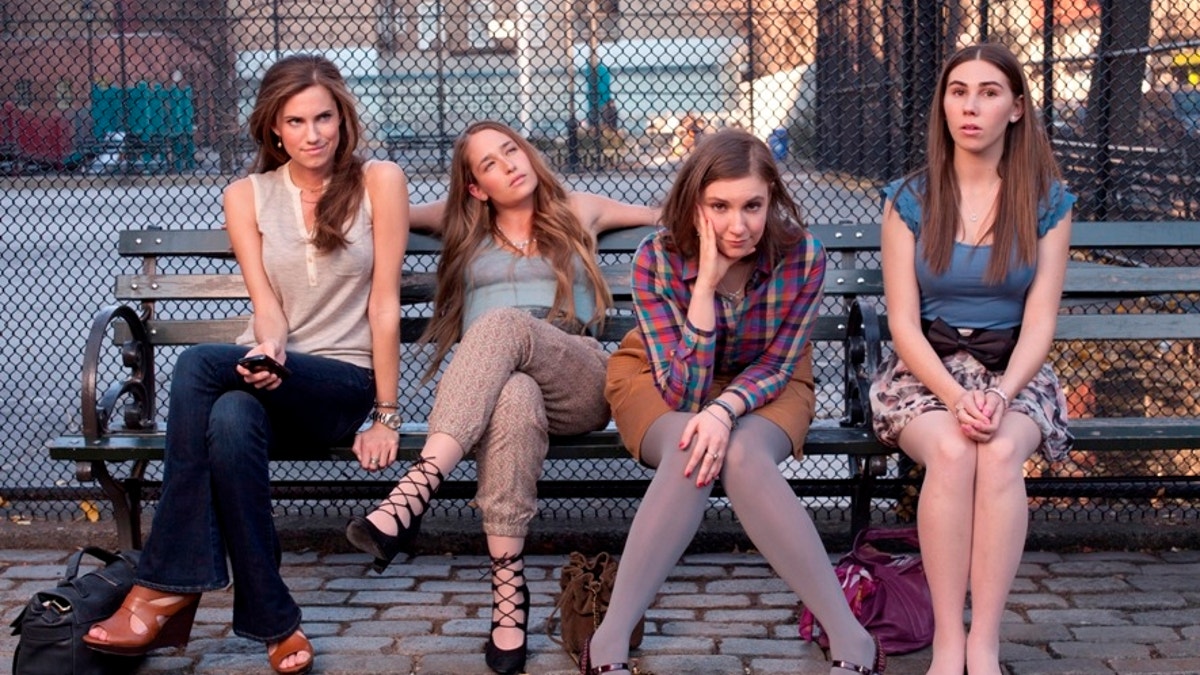 HBO's new sexually-charged series "Girls" pushes the proverbial TV envelope, with story lines about miscarriages, STDs, kinky role playing, and pleeeennnty of onscreen nudity.
Lena Dunham, just 25, created, wrote, directed and stars in the new HBO series, backed by Judd Apatow's ("Superbad," "Bridesmaids") production company.
However, not everyone is thrilled with seeing more shows about young women and their issues on the small screen.
"Enough, ladies. I get it. You have periods," "Two-and-a-Half Men" creator Lee Aronsohn said last week. ""We're approaching peak vagina on television, the point of labia saturation."
Courtney Love's daughter: Twitter should ban my mom.
Yet at the "Girls" premiere screening in Los Angeles this week, Dunham dismissed such criticism.
[pullquote]
"Oh thank you, I was so worried about that," she said sarcastically. "Look, there are three shows with the title 'Girls' and everyone has a breakdown, and then there is Spike TV and entire networks filled with guy stuff."
Jen Aniston talks going topless in latest film.
But where 20 years ago HBO's seminal series "Sex and the City" unveiled a glamorous Manhattan lifestyle of lavish dining, high fashion, chic apartments and top-notch careers, the recession relevant "Girls" positions its leading ladies (all early 20s) in Brooklyn without big budgets, still trying to figure out who they are and what they want.
Hannah (Dunham's character) plays a writer, but unlike "SATC's" iconic Carrie Bradshaw, she can barely get an interview, let alone paid work.
"It's the type of girl I haven't seen on TV yet, so HBO really took a chance. I had a feeling it was going to connect to women of this age… At certain times, I was really reaching into my own experience," said Dunham. "I wanted to have that kind of (New York) spirit of if you can make it here, you can make it anywhere."
She also stressed that it was important that her co-stars be fairly rookie and unrecognizable, although she did cast some famed family names – Jemima Kirke is the daughter of Bad Company drummer Simon Kirke, Zosia Mamet is the daughter of playwright David Mamet, and Allison Williams is the daughter of NBC Nightly News anchor Brian Williams.
Adam Driver, a former U.S. Marine who joined the service at 18 in the wake of 9/11, plays Dunham's kind-of (more like sexual favors-only) boyfriend.
"Adam was amazing, he was in the military and he is a theater actor," she added. "So his work ethic was just bananas."
"Girls" premieres on HBO on Sunday, April 15th (10:30-11:00 P.M. ET/PT)