Cooking with Friends: Arthur Aidala's Grandma Mary's Christmas Eve Shrimp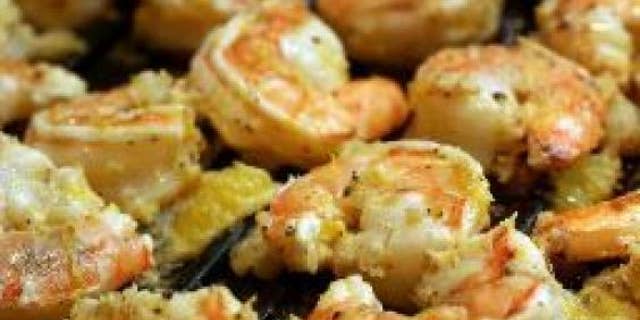 GRANDMA AIDALA'S CHRISTMAS EVE SHRIMP
Ingredients:
2 dozen jumbo shrimp cleaned, deveined with tails off
1 dozen eggs
Flour
Seasoned bread crumbs
Peanut oil/olive oil
1 c. club soda
4 tbsp. minced garlic
Parsley
Onion powder
Salt and pepper
Fresh lemon
Instructions:
Fill a large mixing bowl about half way with flour. Add salt, pepper, and onion powder to taste.
In a second bowl, scramble all of the eggs and again use the seasonings generously to flavor the eggs. Add club soda to the mixture.
In a third bowl, put the seasoned bread crumbs and add garlic and parsley as well as some more of the above seasonings.
In a deep frying pan heat the oil over medium heat. Grandma Aidala used olive oil but now we use peanut oil. Either works but does affect the taste.
Take one shrimp at a time and dredge it in the flour mixture, then the eggs mixture which creates a type of glue effect. Then put it in the breadcrumbs bowl and slightly push the breadcrumbs into the shrimp so it sticks. Set the breadcrumb covered shrimp on a plate.
Once you have about a dozen coated shrimp, gently place each shrimp individually into the frying pan where the oil should be hot enough so that the oil sizzles upon entry of the shrimp.
Keep shrimp in the pan about three minutes each side or until golden brown.
When brown on both sides remove from pan and place on paper towels to absorb the extra oil. Immediately squeeze fresh lemon on the hot shrimp and watch them disappear before they can reach the table.