Conor McGregor's praise of Vladimir Putin draws scrutiny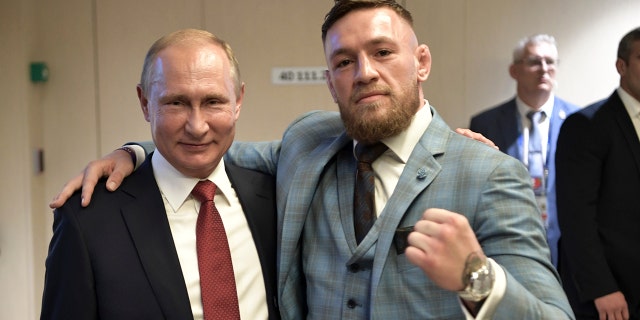 UFC star Conor McGregor came under fire Sunday after he called Russian President Vladimir Putin "one of the greatest leaders of our time."
McGregor made the comments in an Instagram post, in which he said he was one of Putin's guests to attend the World Cup final between France and Croatia.
"Today I was invited to the World Cup final as a guest of Russian President Vladimir Putin. This man is one of the greatest leaders of our time and I was honored to attend such a landmark event alongside him," McGregor said. "Today was an honor for me Mr. Putin. Thank you and congratulations on an amazing World Cup."
McGregor's high praise of Putin immediately drew criticism on social media.
"That's a big yikes from me, dawg (sic)," one Twitter user wrote.
Another user likened McGregor to Dennis Rodman.
McGregor made a court apperance last month after he was charged with several crimes following an April bus attack. His next court appearance is set for July 26.