CNN star Don Lemon wants more outbursts during WH press briefings after April Ryan 'rudely' shouts out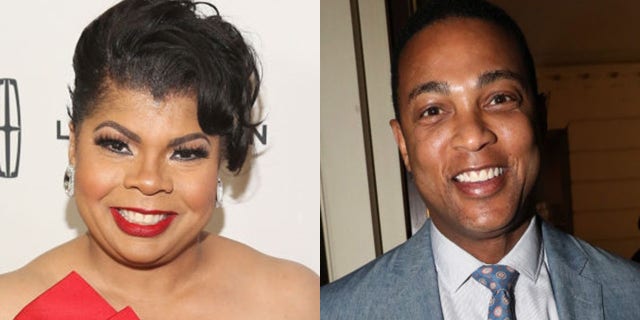 CNN star Don Lemon praised his colleague April Ryan for shouting questions during Tuesday's White House press briefing, essentially encouraging reporters to interrupt their peers before offering a tortured explanation of patriotism.
Ryan interrupted White House Press Secretary Sarah Sanders during Tuesday's press briefing, repeatedly asking if President Trump is aware that NFL players who protest during the anthem are doing so because of police-involved shootings, as opposed to disrespecting the flag. Sanders attempted to call on a different reporter, but the CNN contributor shouted over everyone in the room until the press secretary acknowledged her.
"The president has made his position crystal clear," Sanders said as Ryan continued to shout over everyone in the room. "I let you rudely interrupt me, and your colleague; I'm going to ask that you allow me to finish my answer. I would be happy to answer it if you would stop talking long enough to let me do that. The president has made his position crystal clear on this topic. He feels strongly that standing for our national anthem is something that we should do… something that matters to what makes our country special, unique and what sets us apart."
While several critics took to Twitter to call Ryan's outburst rude, Lemon applauded Ryan for her behavior during the briefing.
"Amen, April. More of that in the briefing room, April. Following up and getting an answer. I absolutely applaud you," Lemon said while clapping after the exchange was replayed on "The Situation Room with Wolf Blitzer."
Blitzer followed up by asking the "CNN Tonight" host where the ongoing debate regarding anthem protests was heading – and Lemon had a lot to say on the topic.
"I think it's heading into November and I think the president realizes his base, this is something that animates his base and he's going to continue on with it," Lemon told Blitzer. "If the president cares about Americans' First Amendment rights, and his own First Amendment rights, and the rights of his people who support him, then he should care about the First Amendment rights of those people who have chosen to kneel during the national anthem."
Lemon then said the controversy isn't about "fake patriotism, about standing or some pageantry," before explaining to CNN viewers what he considers to be genuine patriotism.
"Real patriotism is understanding what the Constitution means for all Americans and abiding by the Constitution, not doing some false presentation that you pretend to be a patriot while other people are around you, going to the concession stands, getting beer or fights in the stands or talking to each other with their baseball caps on. That is not real patriotism. Real patriotism is understanding that all of us are created equal and we have the choice to stand, kneel or sit or even attend a football game if we choose to," Lemon said.
Not everyone was impressed by Lemon's explanation and NewsBusters Managing Editor Curtis Houck wrote that "pompousness was on display" during the segment.
"Claiming that simply standing for the anthem ‒ and, by extension, the flag ‒ isn't patriotic is embracing the same type of either or fallacy that he's denouncing the president for holding," Houck wrote.
The Trump administration rescinded an invitation for the Philadelphia Eagles to celebrate its Super Bowl victory at the White House this week, instead hosting an alternative event highlighting why Americans "stand for our national anthem." Sanders accused the team of a "political stunt," and said the players who planned to boycott the event had chosen to "abandon their fans."
The ongoing controversy surrounding the national anthem started during the Obama administration, when former 49ers quarterback Colin Kaepernick refused to stand up during the national anthem of a 2016 preseason game to protest the treatment of minorities by law enforcement.
Trump has mocked protesters over the last two years, repeatedly saying the players should show respect for the flag and armed forces by standing.