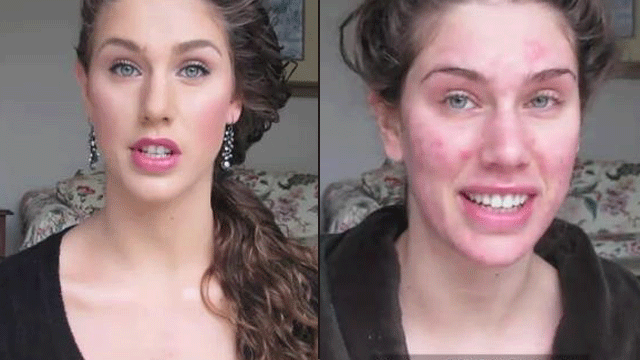 A California teen has become an internet sensation after filming her amazing makeup transformations.
Cassandra Bankson, 19, suffers from severe acne that covers her face, neck, chest and back. But using skilled makeup application, she is able to cover her scars so well that she has even forged a career as a part time model.
Bankson learned the techniques after hours of researching and practicing. She later chronicled her transformation in a YouTube video that has racked up more than two million views.
"I am the most self conscious person about my acne," Bankson said in the video. "I know it doesn't look like it, but taking my makeup off is probably one of the most insecure things I can do."
She appears in the video in full makeup, then removes it and shows a step-by-step guide for applying her foundation.
"This is probably the most nerve-wracking thing that I could possibly do because it is my biggest insecurity," she says in the video while wearing no makeup.
"The sad part is that this is a lot better than it used to be," she says of her acne.
Bankson has since been reaching out to other teens suffering with acne.
"I hope this helps you if you guys have acne, or even if you don't have acne and you just want really pretty skin," she says in the video.
In an interview with "Good Morning America," she said the response has been "overwhelming."
"It really is an eye-opener. I never knew that for men, for women, even for adults, it's such an epidemic. Yes, it's cosmetic, but it goes deeper than that. I think that's something that's a little bit of a misconception. "