Bruno Mars Rocks Out On BET Awards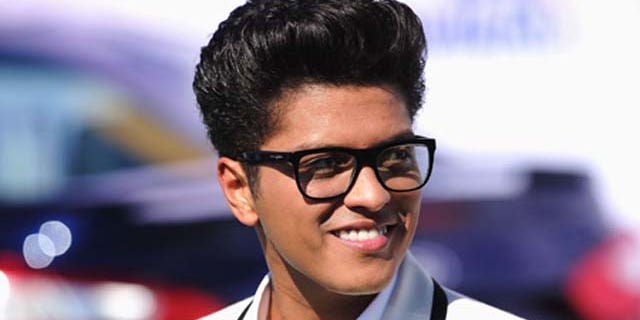 Bruno Mars certainly lit up the stage at the BET Awards ceremony held at the Shrine Auditorium Sunday night in Los Angeles Calif.
Mars, A.K.A Peter Gene Hernandez, rocked out with a smile and his electric guitar as he performed a duet of "A Woman's Worth" with Alicia Keys and DJ Khaled.
Mary J. Blige performed the hits "All Night Long" and "Real Love" before being joined by Anita Baker. The divas performed a duet of "Caught Up in the Rapture."
Chris Brown won a pair of prizes early in the show. Brown, 21, won best male R&B artist and best collaboration for his song "Look At Me Now" with Lil Wayne and Busta Rhymes.
Brown accepted the collaboration award after performing a medley that including the winning track.
"Public-speaking is not my strong suit," he said, thanking BET and his fans before passing the microphone to Lil Wayne, who expressed gratitude to Brown for including him on the track. Busta Rhymes rapped his acceptance.
Earlier in the ceremony, Brown also thanked his fans and the network: "I appreciate all the support. I know it's been a long road, so I appreciate every blessing in front of me."
Lil Wayne also came on stage when Nicki Minaj accepted her award for best female hip-hop artist.
"I can't believe for the first time I get to share a moment like this with the person who saw me rapping on a staircase," she said of the rapper and producer, who was incarcerated when she won the same prize last year. "Lil Wayne, I love you."
Minaj was joined by Selena Gomez's beau, Justin Bieber, to present the male hip-hop artist award later in the show. Kanye West won but wasn't on hand to accept the trophy.
Instead of traditional awards-show winners' envelopes, winners were revealed on a tablet device provided by Sprint.
Diddy-Dirty Money was named best group. Jaden Smith and Willow Smith were also early winners. The son and daughter of Will Smith and Jada Pinkett Smith tied as winners of the Young Stars award.
Follow us on twitter.com/foxnewslatino
Like us at facebook.com/foxnewslatino