Bruno Mars returns to American Music Awards stage with '24K Magic'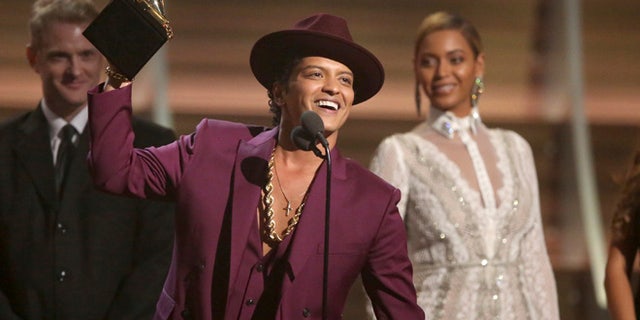 When Bruno Mars' megahit "Uptown Funk" was at the top of the charts last year, the prolific singer and songwriter was already writing his next party anthem.
Since it was released earlier this month, "24K Magic" has racked up more than 46 million views on YouTube.
"You want to kick the door down instead of politely say, 'Hey guys, check this out.' So I think that was the whole objective — to make sure the visual came with the song so people can know, 'When we wrote this, this is what we felt like,'" Mars told The Associated Press recently.
"When I'm performing, this is what I want you to feel like. Hopefully everyone's partying with us," said Mars, 31, whose birth name is Peter Gene Hernandez.
Mars performed the song, his 13th Top 10 hit on the Hot 100 chart, on "Saturday Night Live" last weekend and will now take it to the American Music Awards next month.
Dick Clark Productions announced Wednesday that he would take the AMA stage for the first time in five years as the opening act.
"24K Magic" is the first single — or invitation to the party as Mars puts it — for his third album of the same name, to be released Nov. 18. Two days later, he'll open the 2016 American Music Awards with a live performance.
The singer-songwriter-producer says when he first came up with the treatment for the video, which features his signature dance moves, playful band and colorful fashion, he overthought it.
"For weeks and weeks and weeks, I wanna say a year, I was thinking about what the video's going to be ... how are we going to distance it from the other videos I've done and do something special. And every time I came up with a concept it wasn't what the song (was about). The song sounds like a party. So it was like, 'Don't try to go against the grain,'" said Mars, who co-directed the clip.
When the pop star was in Las Vegas, a light bulb turned on.
"I was like, 'This is what we got to do. Fly the guys down. Turn the camera on.'"
Based on reporting by the Associated Press.
Like us on Facebook
Follow us on Twitter & Instagram