'Breaking Bad' sequel movie focused on Jesse Pinkman reportedly headed to Netflix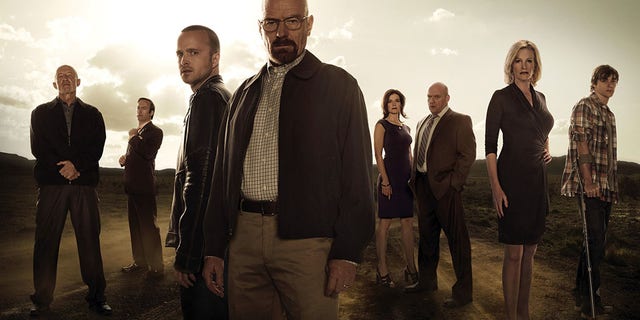 It seems the story of "Breaking Bad" is not yet finished. A feature-length sequel is in the works that will reportedly drop on Netflix long before cable subscribers get to see it on its original network, AMC.
According to Deadline, series creator Vince Gilligan is hard at work on a "Breaking Bad" follow up, but in a surprising twist, it will be available to stream on Netflix first. This is a break from how the show initially got its start, with episodes premiering on cable before quickly being sold to Netflix for binging. The show's relationship with the streaming giant was so good at the time that Gilligan even thanked Netflix in his 2013 Emmys acceptance speech.
BRYAN CRANSTON DOESN'T MISS 'BREAKING BAD' CHARACTER WALTER WHITE
"I think Netflix kept us on the air," he said at the time. "Not only are we standing up here, I don't think our show would have even lasted beyond Season 2... It's a new era in television, and we've been very fortunate to reap the benefits."
'BREAKING BAD' FILM SEQUEL REPORTEDLY IN THE WORKS
Currently, the project is still shrouded in mystery. However, The Hollywood Reporter notes that it's likely the show will focus on Aaron Paul's character, Jesse Pinkman, and his journey after escaping captivity in the series finale of the show. For those that don't remember [SPOILER ALERT] Jesse was captured by Jack Welker and his gang and forced to make Walter White's signature blue meth against his will. However, thanks to a clever intervention from White, he escapes in the final moments of the series, riding off into the sunset in an El Camino. However, fans have been curious ever since as to what happens next.
CLICK HERE TO GET THE FOX NEWS APP
"It's a great story and there are a lot of people who felt that they wanted to see some kind of completion to some of these storylines that were left open [in the series finale]," Cranston said of the movie while speaking on "The Dan Patrick Show." "This idea, from what I'm told, gets into those — at least a couple of the character show were not completed, as far as their journey."