'Bohemian Rhapsody' biopic drops first trailer featuring Rami Malek's uncanny Freddie Mercury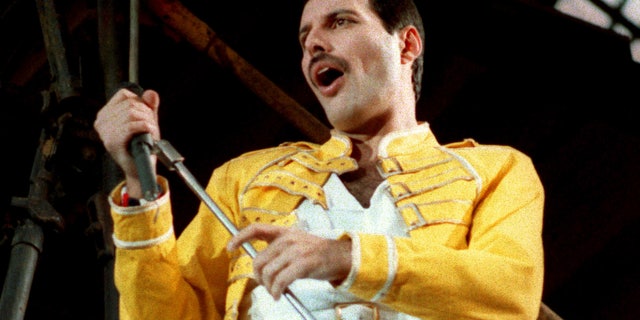 NEWYou can now listen to Fox News articles!
Prepare yourselves Queen fans because the first trailer for the biopic "Bohemian Rhapsody" just dropped, featuring an uncanny performance from actor Rami Malek as the prolific band's front man, Freddie Mercury.
The "Mr. Robot" star took on the role of Mercury after Sacha Baron Cohen walked away from the offer alleging creative differences. The production of the film hit another snag when director Bryan Singer was fired in the middle of production due to unprofessional behavior.
Despite the struggles, Malek was brought on along with English actor and director Dexter Fletcher to help finish out the film which, judging by the trailer, cut no corners when it came to authenticity.
The trailer alone showcases Mercury's unique style, impeccable stage presence and musical mind that fought for an "operatic section" in the middle of a rock song. However, if the visuals aren't enough to get you on board, the mashup of Queen songs such as "Another One Bites The Dust," "We Will Rock You" and, of course, "Bohemian Rhapsody" might just be worth the listen in the below trailer.
As Entertainment Weekly notes, Malek's uncanny performance as Mercury is not something that the star is taking lightly. He recently explained to a crowd at CinemaCon that the role is a make-or-break performance for him as the rock star, who died in 1991, is so beloved by his fans.
"One thing I will say is when I got this role, I thought, 'Oh my God, this could be a career-defining performance,'" Malek said. "And about two minutes later, I go, 'This could be a career killer.' I'm not kidding. You don't get this right, and it's trouble. He is, without a doubt in my mind, the greatest performer that has existed. I may be a little biased, but when I started to study him, everything I learned about him, watching him, beginning to emulate him… There is no one like this human being. Behind him is one of most prolific bands of all time, and together they've created music that not only speaks to us, but I think every generation. It's imbued in our DNA now."
You can see the first trailer for "Bohemian Rhapsody" below.