Marvel's "Black Panther" is the antidote to superhero movie fatigue.
"Black Panther" features all the right ingredients to become one of the most successful superhero films of all time. It's injected with fresh vigor, a laser-focus on character, a not-so-subtle tinge of politics, vivid world building and a jaw-dropping stellar cast.
Director Ryan Coogler ("Fruitvale Station," "Creed") breaks "Black Panther" free from the charging herd of superhero films – even Marvel's own repetitive mold – by focusing less on clichéd plot devices, like taking down CGI monsters, and instead takes a page from Shakespeare to dissect political intrigue and destructive familial drama all while cleverly shrouded under the cloak of a superhero film.
"Black Panther" begins shortly after the fatal events that introduced Black Panther to the Marvel Cinematic Universe in "Captain America: Civil War." T'Challa (Chadwick Boseman) returns to his secret African nation, Wakanda to assume the throne after his father's murder, and once crowned king, he must balance the power of being the new Black Panther with the growing political schism in his kingdom. Everything is disrupted once the American mercenary Erik Killmonger (Michael B. Jordan) infiltrates Wakanda, challenges the throne and seeks revenge on T'Challa and his family for his father's murder decades earlier.
Coogler uses his indie film world arsenal to flesh out "Black Panther's" characters to great effect. He lays bare Black Panther's almost obsessive need to teach and live by his late father's seemingly noble moral code, but when that code is shattered and revealed to be a façade, Coogler clearly has fun flipping traditional superhero tropes on their axis to play with the dissemination of the core characters' relationships.
And Marvel gets political.
This is certainly the most woke superhero film to date. Beneath the expected genre clichés, Coogler provides a flourish to a number of current political and social issues ranging from border security and the refugee crisis to inequality and black empowerment. Nakia (Lupita Nyong'o), a spy and Black Panther's former lover, maintains a running argument throughout the film that Wakanda should have open borders to share the country's advanced technology and provide aid to refugees, an idea strongly opposed by the king and later exploited by Killmonger.
These issues – especially race – are expected, if not unavoidable, since "Black Panther" is the first non-spoof ("Blankman" and "Meteor Man" anyone?) major superhero film to feature a nearly all-black cast.
And it's that combination of the cast and a major superhero franchise that could create the perfect storm for "Black Panther" to become one of the most successful superhero films ever made. But while the movie is packed with inspirational and empowering moments, some may take umbrage with a possible double standard by Marvel forgoing political correctness with Shuri (Letitia Wright) flippantly referring to some white characters as "colonists."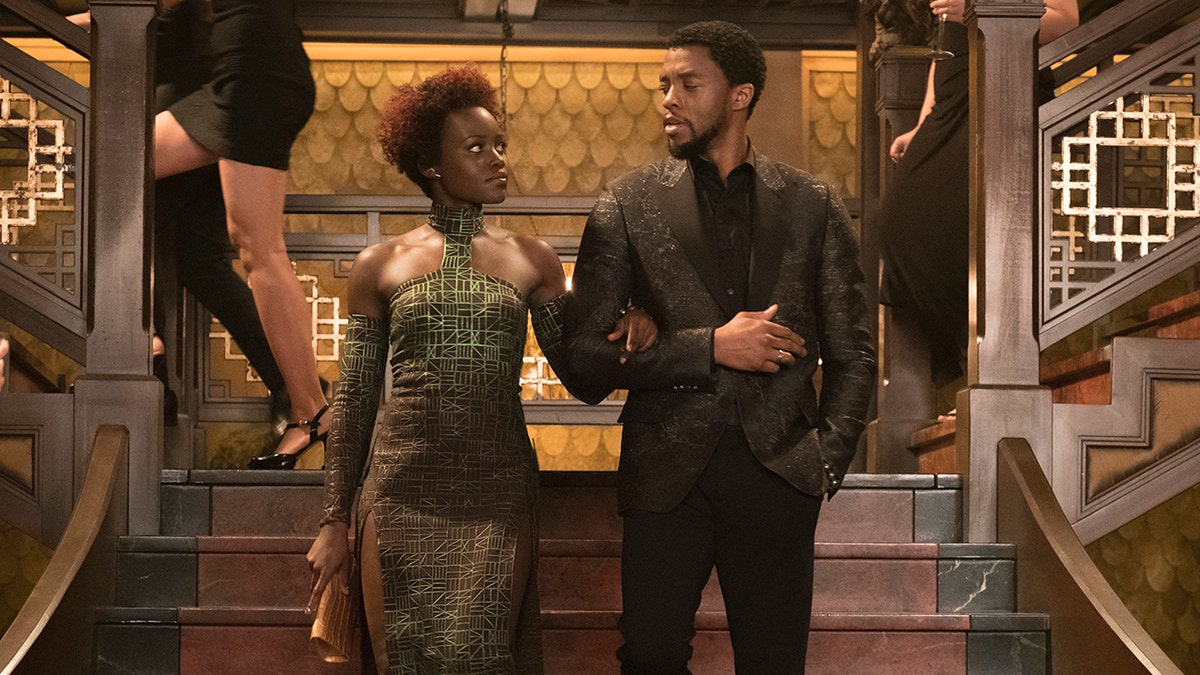 Politics aside, it is ultimately the truly sensational cast that holds "Black Panther" strong, especially the trio of Nyong'o, Danai Gurira, and Letitia Wright, who tear down about a half dozen superhero conventions with the strongest, best-realized female roles in this genre to date. Nyong'o flips the conventional "love interest" role, Gurira is the impenetrable head of the Wakanda armed forces, and Wright is the brainy and sarcastic James Bond-like "Q" to Boseman's Black Panther.
And, of course, Boseman at last escapes his Avengers pals and takes center stage, giving a no-frills, commanding performance as Black Panther.
But Michael B. Jordan's villain is the fulcrum here. Marvel and D.C. villains have been sorely lacking so it isn't too difficult for Jordan to easily take the mantle of the best villain since Loki in "Thor." Historically, quality in this genre really comes down to how good the conflict is between the hero and the villain, and Jordan's Killmonger carries a sadistic attitude tinged with melancholy and woe. Jordan cleverly plays with the character's ambiguous motivations and allows the audience to feel and experience his moral struggle. A great villain.
"Black Panther" has no shortage of top-shelf talent in the supporting cast either with Angela Bassett, Forest Whitaker, Sterling K. Brown, Daniel Kaluuya, Andy Serkis, and Martin Freeman.
Wakanda's detailed world building, the impressive martial arts sequences, a truly unique blend of traditional orchestral score and African percussion by Ludwig Göransson with Kendrick Lamar's songs all add to "Black Panther's" refreshing vitality, which may perhaps make this an outlier as the Marvel Cinematic Universe returns to its typical annual programming this summer with "Avengers: Infinity War."
Marvel Studios. Rated PG-13. Running time: 2 hours and 14 minutes.