'Avengers: Endgame' star Don Cheadle teases what could come next from the Marvel Cinematic Universe
LOS ANGELES – Don Cheadle isn't giving anything away about "Avengers: Endgame," which is set to debut this week – but that doesn't mean there isn't news to be had about future Marvel projects.
The Marvel mainstay has enjoyed an embarrassment of riches during his time in the Cinematic Universe that began in 2010 when Cheadle was introduced as Lt. Col. James "Rhodey" Rhodes in "Iron Man 2" and has spanned seven films and nearly a decade to conclude with "Endgame."
DON CHEADLE WON'T DO PRESS WITH 'AVENGERS' CO-STAR MARK RUFFALO: 'HE RUNS HIS MOUTH A LOT'
Now, as the "Avengers" series draws to a close, Cheadle, who co-starred for many years as War Machine is offering his take on whether we can expect to see another mega movie featuring the leading ladies of Marvel after the outcry of support for the women of Wakanda in "Black Panther," the Alison Brie-led "Captain Marvel" and the upcoming "Black Widow," featuring Scarlett Johansson.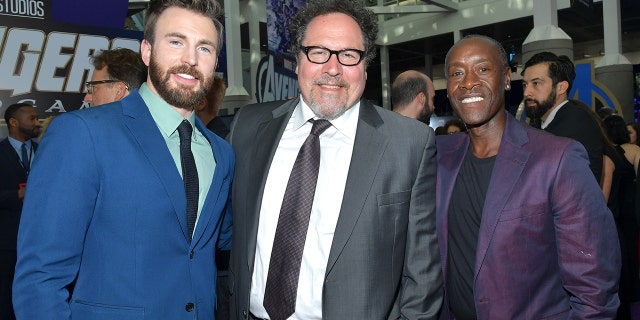 MARK RUFFALO: A 'HULK' MOVIE WILL NEVER HAPPEN
"Well, I was in a room where that was talked about. We'll see, but they were all grabbing together and took [producer] Kevin Feige into a corner and said, 'this needs to be the next one,' so you never know with Marvel – you never know," Cheadle, 54, told reporters Monday at the World Premiere of "Avengers: Endgame" in Los Angeles, Calif.
"Endgame" is touted as a culmination of 22 films that concludes the story of "Infinity War" that millions of fans desperately want to see and expands upon other superheroes in the Universe and their respective films that have released over that time and grossed nearly $19 billion, according to Comscore.
DON CHEADLE ADVOCATES FOR TRANS YOUTH, CRITICIZES TRUMP'S ALLEGED RUSSIA CONNECTION ON 'SNL'
Cheadle said his emotions haven't quite given way to the magnitude surrounding the history of the Avengers and other Marvel titles that serve in leading up to its finale but noted that the longevity of the series itself is certainly a feat worth celebrating.
DON CHEADLE NAMED AMBASSADOR OF UNITED NATIONS ENVIRONMENT PROGRAM
"I think it's really going to be when those end credits roll – that's when we're going to kind of really feel it," the "Black Monday" star lamented. "It is a bit surreal that it has been 10 years – you had kids who have graduated high school, gone to college, graduated college – you look back over it and so many milestones had happened in each of our personal lives, that these films have spanned. It's kind of bizarre."
When asked about the global impact the various Marvel films have had since their inception, Cheadle said he was impressed with the writers and producers for their ability to effortlessly bring years of comic book stories to life on the big screen.
"It's really a testament when you see how everybody has come and how excited they are – it's really a testament to Marvel and Kevin Feige in a huge way to be able to take these stories from the comic book and move them into the movie space, and not miss a beat – and have people who are so dedicated continue to support it. It's just special."
"It's going to be great. Everyone is going to have their moment to shine in this one, so I'm really excited."
"Avengers: Endgame" hits theaters on April 25.