Don Cheadle advocates for trans youth, criticizes Trump's alleged Russia connection on 'Saturday Night Live'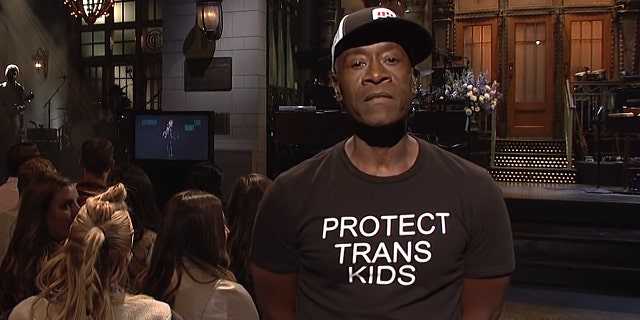 Actor and activist Don Cheadle made some fashion statements in more ways than one while hosting NBC's "Saturday Night Live" this week.
DON CHEADLE WON'T DO PRESS WITH 'AVENGERS' CO-STAR MARK RUFFALO
The 'House of Lies' star introduced the evening's musical guest, blues-rock artist Gary Clark Jr., while wearing a black T-shirt which read "Protect Trans Kids," in a move applauded by many viewers. As the show closed, he donned a Russian hockey jersey which had Trump's name on the back.
Many viewers spoke out online in support of Cheadle's fashion decisions, and for using his platform on SNL to promote a powerful message.
DONALD TRUMP SLAMS 'SNL' AFTER LATE-NIGHT SHOW SKEWERS STATE OF EMERGENCY DECLARATION
"Shoutout to #DonCheadle for wearing "Support Trans Kids" shirt. They are among our most vulnerable kids and need all the love and acceptance we can show," one Twitter user wrote.
DON CHEADLE EXPRESSES CONCERNS AHEAD OF 2020: 'I DON'T KNOW' WHO CAN BEAT TRUMP
"@DonCheadle thank you so much! It's important that my daughter and other trans kids like her see that they have support from people in all walks of life," another woman said.
As Cheadle thanked the audience during the show's closing remarks, while flanked by by Clark Jr. and cast members like Leslie Jones, he wore a red and white CCCP hockey jersey emblazoned with the number 45. When he turned around, Trump's name was visible at the top, with an inverted "R."
DON CHEADLE NAMED AMBASSADOR OF UNITED NATIONS ENVIRONMENT PROGRAM
Cheadle has been a longtime activist, advocating for climate change reform and against global genocide in recent years. His current Twitter profile photo is an image of Jakelin Caal Maquin, a seven-year-old Guatemalan girl who died while in ICE custody in December.