Almost 4 in 10 surveyed say NBC's 'Saturday Night Live' is too political
A new poll indicates that many Americans think NBC's "Saturday Night Live" has gone overboard with politics.
"SNL" has long parodied presidents and other politicians, but Alec Baldwin's repeated unflattering portrayal of President Trump could be turning away some viewers. Thirty-nine percent of responders to a poll conducted by The Hollywood Reporter and Morning Consult felt the sketch comedy show "has gotten too political."
DONALD TRUMP SLAMS 'SNL' AFTER RERUN EPISODE, FLOATS THE IDEA OF AN FCC INVESTIGATION INTO THE SHOW
The poll indicated that 3 in 10 of those asked don't think "SNL" has become too political, while 31 percent said they don't care either way.
The same poll indicated that 50 percent of responders feel late-night talk show hosts lean left when it comes to politics, while only 11 percent feel the hosts are conservative and 27 percent offered no opinion. When it comes to "SNL," 48 percent said the show is liberal and 37 percent had no opinion, while only five percent feel the show leans to conservative politics.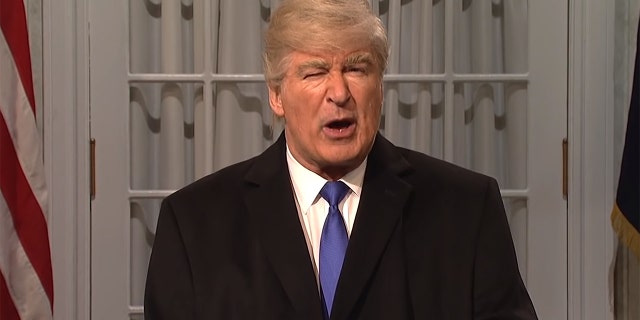 One person who feels the show has gotten too political, obviously, is the president himself.
On Sunday, Trump made his distaste for the political satire of "SNL" public once again by tweeting a scathing rebuke of its "one sided media coverage." In addition to lambasting the comedy series, he touched on what he perceives as unfairness in terms of its coverage of politics while also floating the idea that the comedy is colluding with Democrats to make him look bad and is therefore eligible for an investigation by the FCC.
BALDWIN REPRISES DONALD TRUMP ON 'SATURDAY NIGHT LIVE' IN 'DEAL OR NO DEAL: GOVERNMENT SHUTDOWN EDITION' COLD OPEN
"It's truly incredible that shows like Saturday Night Live, not funny/no talent, can spend all of their time knocking the same person (me), over & over, without so much of a mention of "the other side." Like an advertisement without consequences. Same with Late Night Shows," Trump tweeted Sunday.
Trump continued in a follow-up tweet: "Should Federal Election Commission and/or FCC look into this? There must be Collusion with the Democrats and, of course, Russia! Such one sided media coverage, most of it Fake News. Hard to believe I won and am winning. Approval Rating 52%, 93% with Republicans. Sorry!  #MAGA."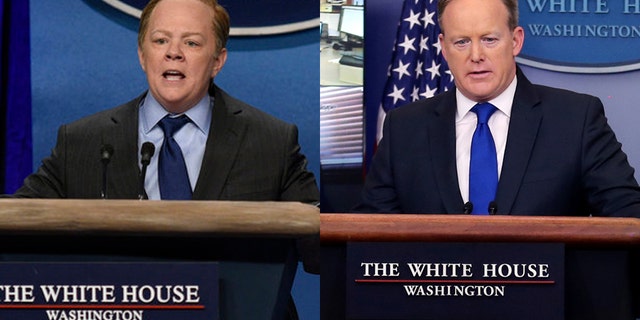 Baldwin has used "SNL" as a platform to mock Trump on a regular basis, and other cast members and celebrities often impersonate members of the administration. White House counsel Kellyanne Conway was famously lampooned when Kate McKinnon portrayed her as a version of Pennywise from the "It" horror film, while former Press Secretary Sean Spicer was regularly portrayed by actress Melissa McCarthy.
But Republicans aren't the only ones who are parodied on the show. A recent cold open featured McKinnon as Nancy Pelosi and Kenan Thompson as Steve Harvey in "Deal or No Deal: Government Shutdown Edition." The "Deal or No Deal" briefcase models included Alex Moffat as Chuck Schumer, Leslie Jones as Maxine Waters, Melissa Villasenor as Alexandria Ocasio-Cortez, Chris Redd as Cory Booker and Mikey Day as Steve King.
Fox News' Tyler McCarthy and Jessica Sager contributed to this report.