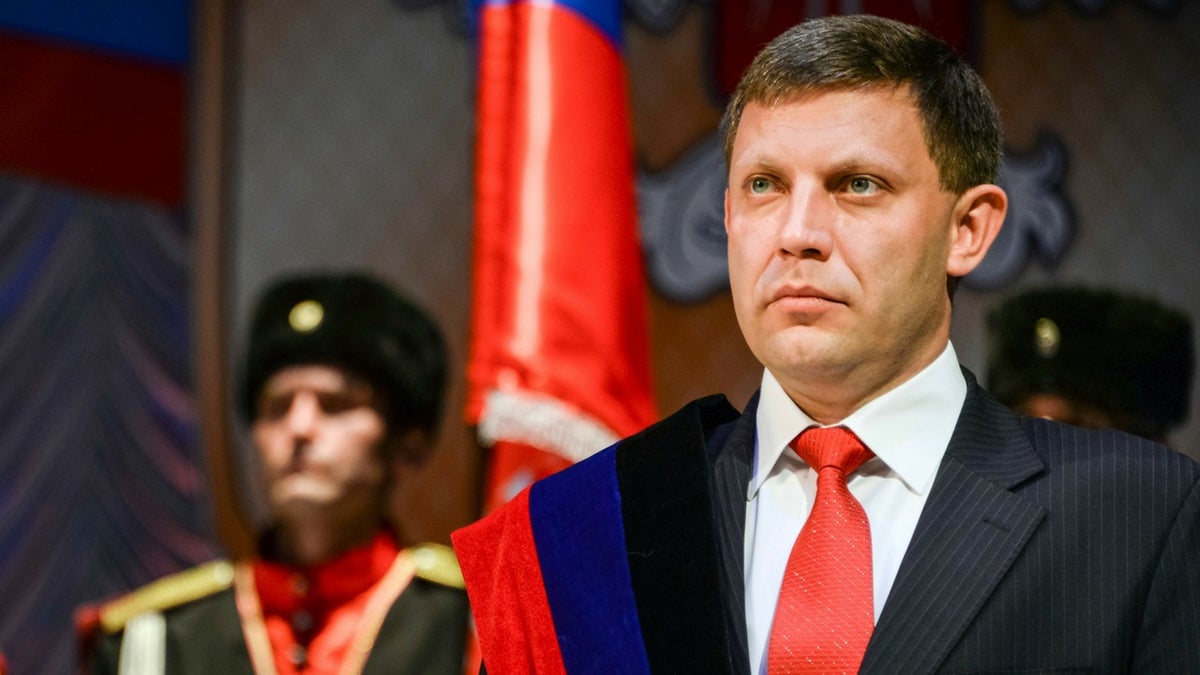 MOSCOW – The leader of the Russia-backed separatists fighting in eastern Ukraine's Donetsk region was killed Friday by an explosion at a cafe, the separatists' news agency said Friday.
Rebel news agency DAN said the afternoon explosion killed Alexander Zakharchenko, 42, the prime minister of the self-declared Donetsk People's Republic. The separatist government's revenue minister, Alexander Timofeev, was severely injured in the blast, Russian news agencies reported.
The Donetsk People's Republic, along with a separatist republic in neighboring Luhansk, has fought Ukrainian forces since 2014, the same year Zakharchenko became prime minister of DPR's secessionist government. More than 10,000 people have died in the conflict.
CLERIC: 'NO GOING BACK' ON UKRAINE SPLIT FROM RUSSIA CHURCH
The cafe in the city of Donetsk that was hit by the explosion, named Separ, was separatist-themed and had camouflage netting hanging from its eaves, according to recent photographs.
It was not immediately clear if a bomb caused the blast or it resulted from something else. Russia's Interfax news agency cited local sources as saying suspects had been detained, but there was no official confirmation.
Denis Pushilin, the speaker of the separatists' parliament, blamed Ukrainian forces for the explosion, calling it "the latest aggression from the Ukrainian side," according to DAN.
ISRAEL READIES FOR UPCOMING VISIT OF PHILIPPINES PRESIDENT

The rebellion in Donetsk and Luhansk arose soon after pro-Russia Ukrainian President Viktor Yanukovych was driven from power amid mass protests in February 2014. Russian-speakers predominate in the two regions, and separatist sentiment skyrocketed.
Encouraged by Russia's annexation of Crimea, which also came after Yanukovych's ouster, rebel leaders initially hoped their regions would be absorbed by Russia as well.