Pakistan Shiites Mourn Deadly Triple Bombing, Blame Taliban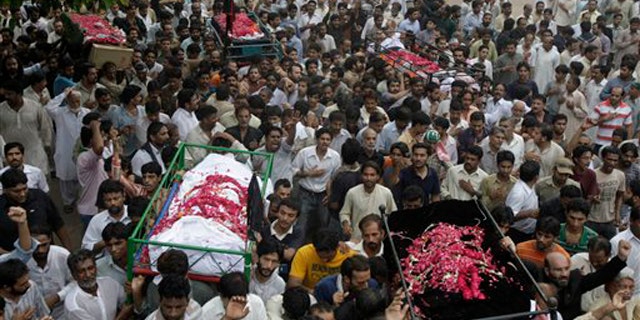 LAHORE, Pakistan -- Thousands of Shiite Muslims, thumping their chests and crying, mourned Thursday at funeral prayers for victims of a triple bombing that heaped more tragedy on Pakistan, which is already struggling to cope with devastating floods.
The blasts that targeted a Shiite ceremony late Wednesday in this eastern city were the first major attacks since flood waters tore through the country over the past month, destroying or damaging more than one million homes and prompting a major international relief effort that continues to struggle with the scale of the destruction.
Interior Minister Rehman Malik on Thursday blamed the Taliban for the bombings.
"The Taliban-- to whom I call oppressors and infidels-- are looking for the soft targets," he said, adding the government was determined to crush militants and security forces were taking actions against them.
"We will continue to take actions till the demise of Taliban," he told reporters.
At least 35 people were killed and 250 wounded in the attacks on a street procession marking the death anniversary of caliph Ali, one of Shiite Islam's most respected holy men. Two of the blasts were apparently suicide bombs.
Afterward, crowds torched a police station and vehicles. Authorities deployed paramilitary forces to restore order.
The bodies of eight victims -- included a young child -- were prayed over in a public park not far from the scene of the bombings. Security was tight, with police frisking mourners. Their families then took them to be buried.
"While the whole nation is distressed with the sufferings of flood affected, these terrorists are involved in promoting their own agenda," Prime Minister Yousuf Raza Gilani said in a statement condemning the blasts.
Sunni militants have launched dozens of attacks against Shiites and other Islamic sects and religions in Pakistan in recent years. The extremists believe it is permissible -- even honorable -- to kill members of other faiths.
Allied with al-Qaida and the Taliban, the militants are also seeking to destabilize Pakistan's U.S.-backed government through such attacks. They have created sanctuaries in the rugged northwest close to the Afghan border where they plan and train.
Senior Shiite leader Agha Syed Hamid Ali Shah Moosavi demanded more protection, but said his community would never stop organizing yearly processions for Ali.
"We can sacrifice our life, but can not allow mourning processions to end," he said.
Pakistan was slow to recognize what army officers now say is the existential threat Islamist militants pose to the state. But over the last two years and amid heavy U.S. pressure, the army has been fighting the insurgents in different parts of the northwest where use to enjoy safe haven.
They have had some success, but the militants have proved a resilient enemy.
The Obama administration on Wednesday added one of the county's deadliest groups -- the Pakistani Taliban -- to its international terrorism blacklist and charged its leader with planning a suicide bombing in Afghanistan last year that killed seven CIA employees.
The group has also been blamed for the failed car bombing in New York's Times Square and scores of attacks in Pakistan.
Pakistan Foreign Office spokesman Abdul Basit welcomed the U.S. action against the group, saying it was also banned in Pakistan.