Years later, Ground Zero workers battle bureaucracy, health problems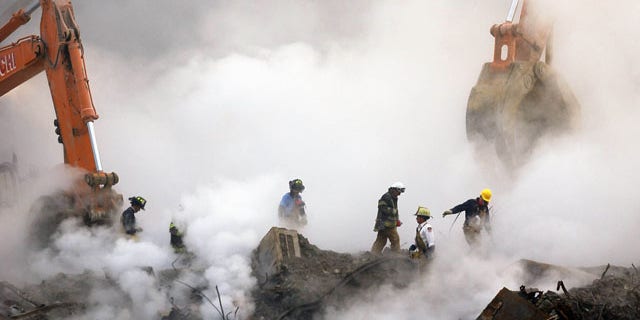 Workers who suffered health problems long after the rescue and cleanup at the Ground Zero "pile" following the 9/11 attacks say they are frustrated by a "complex" claims process that is hindering their access a $4.3 billion fund set up for them - prompting officials to promise they'll streamline the application process.
The fund, created under the 2011 James Zadroga 9/11 Health and Compensation Act, is earmarked for workers and volunteers whose symptoms remained dormant for years. So far, none of the money has been disbursed, as claimants struggle to prove their presence at the toxic site in the days and weeks following the attacks, which released a toxic stew of deadly chemicals. Successful applicants can get compensation for health care expenses and lost wages.
"There have been very few people who have filed complete claims," Special Master Sheila Birnbaum, who is charge of verifying claims and cutting checks, told FoxNews.com. "The registration process for a lot of people has been held up because many of the attorneys are waiting to file all their clients claims at the same time once they are all completed."
"It feels like dealing with an insurance company."
The workers toiled amid asbestos, crystalline silica, lead, cadmium, and polycyclic aromatic hydrocarbons-- all known carcinogens. Some have developed illnesses such as chronic lung and respiratory infections, severe stomach problems and various forms of cancer.
So far, some 5,000 people have registered for the fund, but just 400 have followed through by filing claims. Thousands have become so disheartened by the process that they have turned to lawyers to help them.
"The application process is fairly complex, but it's necessary because the chance of fraud is very high," said Noah Kushlefsky, a New York-based attorney who is currently handling the claims process for nearly 3,500 clients.
"I think what we are seeing is the normal start-up pains, but they are working on making it easier for victims. The delay that we are experiencing now will make things much smoother down the line," said Kushlefsky.
A spokeswoman for the Department of Justice, which oversees the fund, told FoxNews.com officials hope to cut the time down from application to check to just a matter of months. Going forward, the fund will work with city departments to help document responders' service instead of placing the onus on the responder to gather his or her own documentation.
"The claims process is designed to be as streamlined as possible," she said. "We are working with city agencies to attempt to make it easier to acquire information."
That will get claims flowing in and money flowing out much more quickly, according to Birnbaum.
"As time goes on, we will see claims come in by the thousands," Birnbaum said, adding that they hope to stick to the schedule of starting the first payouts on claims by mid-summer.
Filing a claim is a three-tiered process:
Registry, where claim forms are filed. Many have said the forms can be confusing.
Eligibility, where a claimant must provide proof that they were at Ground Zero providing assistance. 
Compensation, where the claimant must show a loss of income and/or employment and proof of any debilitating health conditions.
One first responder told FoxNews.com that it has been difficult to prove that he served at Ground Zero, because when he did he never imagined he would be sickened or ever have to document his presence.
"It took me five full years to provide proof that I was down there," said the man, who spoke on condition of anonymity. "Once you find the proof, putting the claim in is nearly impossible. [Responders are] being forced to run through hoops like they are in the circus and they were just helping out fellow Americans in need. It feels like dealing with an insurance company."
Dr. Sandra Lowe, runs the World Trade Center Health Center at Mount Sinai Hospital, said many of the prospective applicants are too ill to fight the bureaucracy.
"The process is difficult," she said. "I don't think anyone should have to go through it, and in particular, people who were left more vulnerable from being down there."