Woman fakes her own kidnapping, posts video of herself gagged, tied up online, police say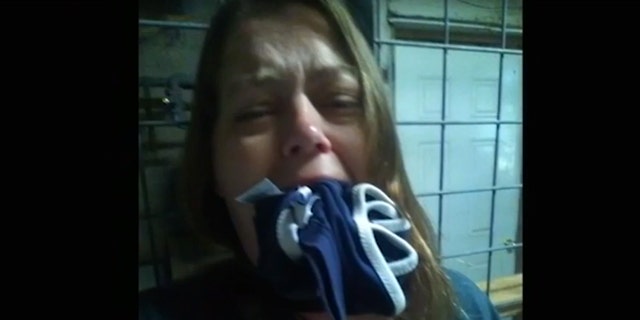 An Ohio woman who posted photos to social media saying she had been kidnapped and tied to a pole in a basement actually faked the entire ordeal, police said.
Thelma Williams, 38, of Hamilton, reportedly told police a masked man entered her home early Thursday morning, tied her up and cut off her clothes.
Butler County Sheriff Richard Jones told WESH 2 that Williams claimed the man then used her phone to videotape the event and later posted the clips to her Facebook accounts.
POLICE: CALIFORNIA MOTHER SEEN ABANDONING TODDLER IN STORE IN CUSTODY
The posts caught the attention of Williams' friends, who called 911.
"They hacked her old Facebook account," one person told a dispatcher. "It has video and a picture of her and it says that they have her and they're going to kill her."
Police initiated a full response that included a helicopter search and closing down a highway.
However, once investigators started questioning Williams, her story because to unravel.
"It appears she took the videos herself. We can actually see her waiting for it to come on so she can get her serious face on," Jones said. "Then her story starts unraveling, and then we find the story to be totally a fabrication."
IOWA MOTHER LEFT 4 KIDS HOME ALONE WHILE SHE WENT TO EUROPE, POLICE SAY
He said Williams actually tied herself up and then posted the messages from a McDonalds. He called it "one of the most bizarre cases" his department has ever had.
It's unclear why Williams allegedly faked the kidnapping. She's been charged with making false alarms.
Williams' daughter, Lorin Karol, told the news station her mother needs help, not prison time.
"If my mom made this up, it's not for attention. It's because she needs help, not because she needs to be behind bars," she said.
Jones, who said the police's response after the posts cost thousands of dollars, has asked Williams to be prosecuted to the "full extent of the law."