Wintry weather causes traffic pileups in Wyoming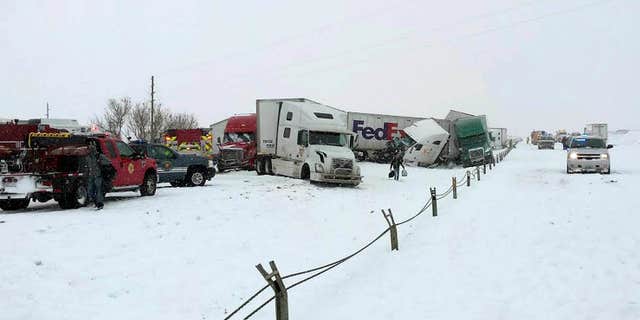 NEWYou can now listen to Fox News articles!
Wintry weather caused car accidents and road closures Thursday as a snow storm passed through parts of the Rockies.
The heavy snow is being blamed for several pileups involving a total of nearly 60 cars and trucks on Interstate 80 in southeastern Wyoming. There were no fatalities reported, but about two dozen people were taken to a Cheyenne hospital.
Cheyenne Regional Medical Center spokeswoman Kathy S. Baker said that three of the people who were taken to the hospital were admitted and the rest were all treated and released. She could not release the condition of the three.
Baker said the medical center had closed the command center it had established and did not expect to see more patients from the wreck.
About 20 people who were not initially assessed as having injuries were also transported to the hospital for food and shelter, Baker said. The American Red Cross was providing aid to people stranded by the accident.
In Colorado, crashes also closed portions of snowy Interstate 70.
The Wyoming pileups occurred late in Thursday morning about 15 miles west of Cheyenne on both sides of the highway, the Wyoming Highway Patrol said. A 50-mile section of the roadway was closed while the affected cars were cleared.
The National Weather Service posted winter storm warnings and winter weather advisories for southeast Wyoming. Up to a foot of snow was possible in the surrounding mountains.
Meanwhile, the spring storm moving slowly across Colorado was expected to dump more than 2 feet of snow in parts of the mountains by the end of Friday.
Higher elevations in Larimer and Boulder counties could see up to 3 feet of heavy snow, the weather service said. The mountains of western Colorado might see up to a foot.
The Front Range was expected to get 2 to 4 inches of wet snow mixed with rain, and some thunderstorms were possible on the eastern plains. Flurries also were reported in eastern Utah.
The storm was expected to give a boost to Colorado's below-average snowpack, but also increase the danger of avalanches.
The Associated Press contributed to this report