Winter storm set to hit Northeast with snow after battering Midwest
A large storm system that's brought a wintry mix across the Midwest is set to slam the Northeast on Wednesday as some people still remain without power from last week's storm.
The National Weather Service said the storm is going to transition into a nor'easter as it moves off the East Coast, bringing between 6 to 12 inches of snow across much of the region. Winter Storm Warnings have been posted stretching from Philadelphia to the Boston-area, with areas north and west of the Interstate 95 corridor expected to see the greatest amount of snow.
"Areas south and east of the big cities will see less snow and more of a mixing which will cut back on snow totals," Fox News Senior Meteorologist Janice Dean said Tuesday "The heaviest snow will start late-morning through the afternoon Wednesday and into the dinnertime hour."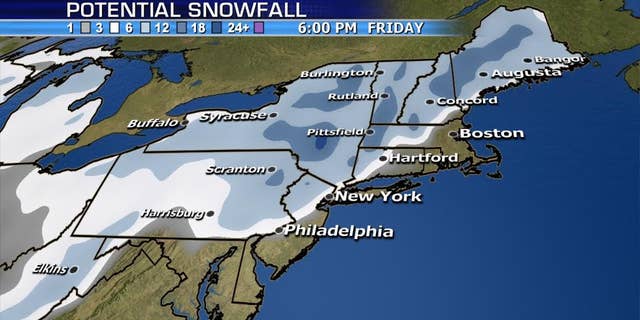 The nor'easter will also bring winds gusting between 40 and 50 mph, bringing the threat of power outages to an area still cleaning up from the powerful storm last week.
"Not good news for folks who are still without power from this past weekend's storm," Dean said.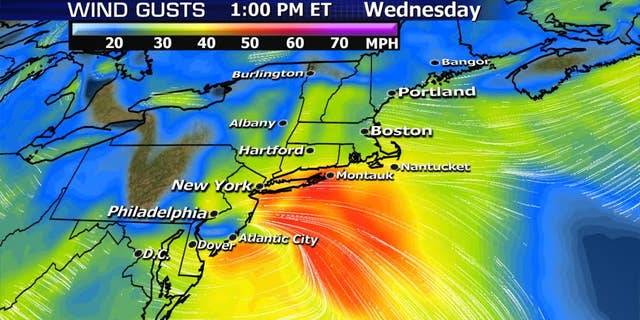 WEDNESDAY'S NOR'EASTER: WHAT YOU NEED TO KNOW
That storm knocked out power to more than 2 million homes and businesses, flooded coastal towns and forced a number of school districts to cancel classes. It was blamed for nine deaths from Virginia to Massachusetts.
"We are into a very busy pattern conducive to coastal storms for the next week."
More than 90,000 utility customers in New Jersey and Pennsylvania are still without power, according to FOX 29.
New Jersey Gov. Phil Murphy declared a state of emergency for the Garden State effective 8 p.m. Tuesday ahead of the storm.
"It's expected to hit us tonight through tomorrow, bringing wet, heavy snow," he said during a news conference.
The governor told people not to "panic," but said they should use "extreme caution" if traveling on state roads.
The storm system moving across the Midwest snarled traffic and closed schools on Monday as it brought freezing rain, heavy snow and strong winds to the region.
WINTER DRIVING TIPS AND PRECAUTIONS
State transportation officials advised against travel in parts of the upper Midwest, and a 211-mile stretch of Interstate 90 in southeastern South Dakota was shut down. The Highway Patrol in Minnesota also reported dozens of crashes, several with injuries.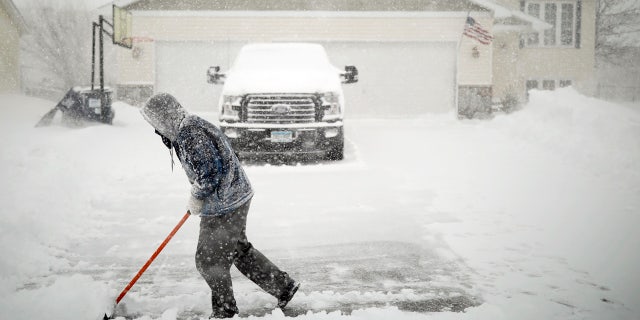 There were 120 flight cancellations and more than 300 delays at the Minneapolis airport as of late afternoon Monday, according to Metropolitan Airports Commission spokesman Patrick Hogan.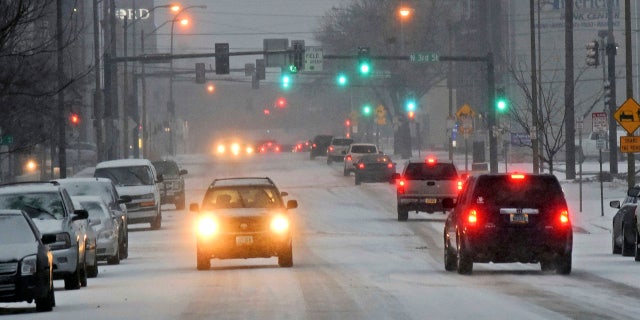 Closures affected mostly elementary and secondary schools, though several colleges and universities also shut down their campuses for the day. Among them were the University of North Dakota and North Dakota State University, affecting more than 26,000 students. Those large schools don't often shut down due to weather.
"Safety is always the key factor," UND spokesman Peter Johnson told the Associated Press.
The nor'easter on Wednesday may not be the last blast of winter for the region, according to Dean. Another coastal storm may impact the Northeast by Monday.
"We are into a very busy pattern conducive to coastal storms for the next week," she said.
The Associated Press contributed to this report.