Wind, dry conditions fuel forest fires burning in New Jersey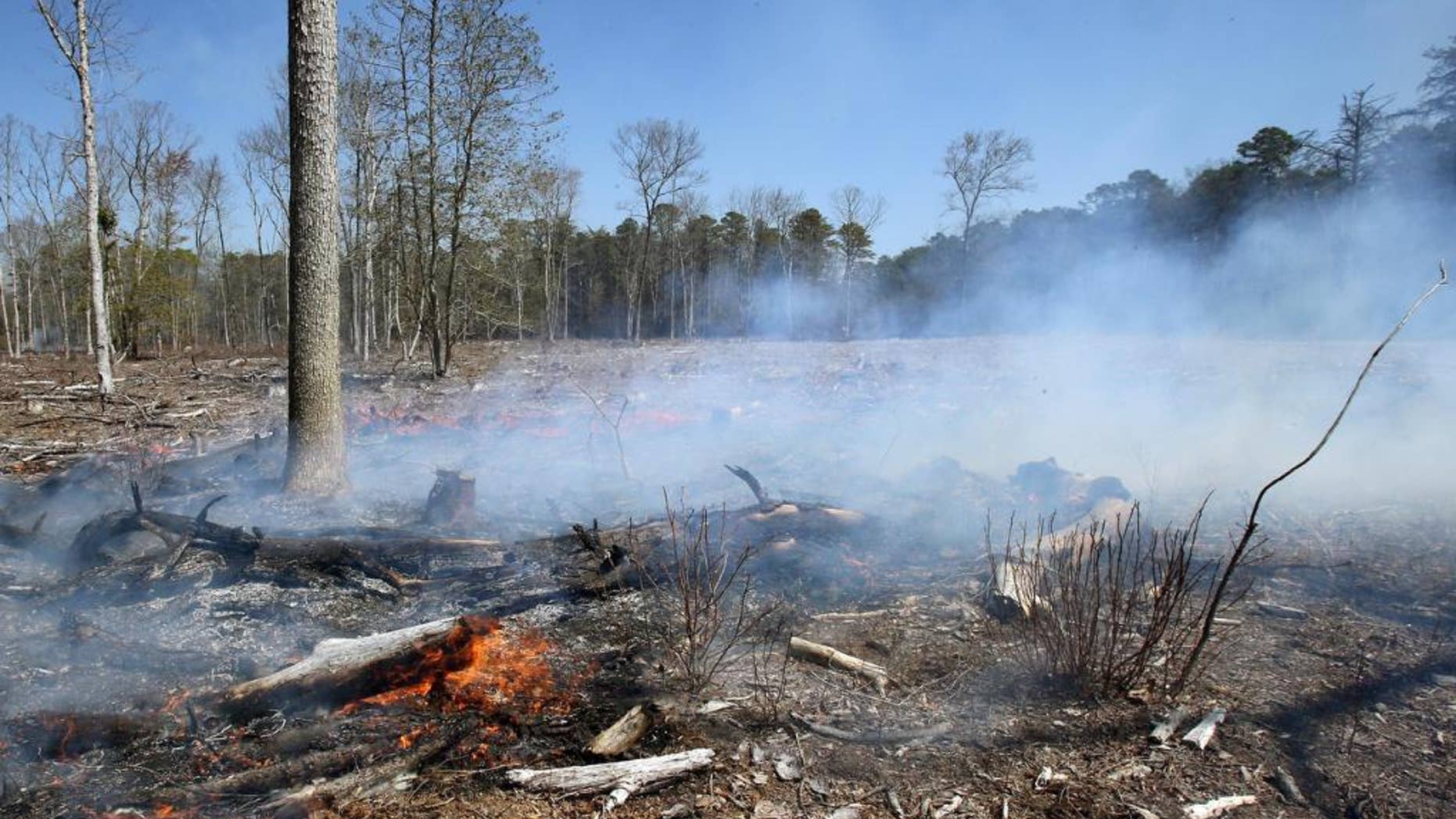 High winds and dry conditions on Thursday provided fuel for several New Jersey forest fires, including one that forced the evacuation of more than 600 homes and the early closing of a school.
Authorities had reported no injuries by early evening.
Greg McLaughlin, division warden with the state Forest Fire Service, said early Friday that more than a half dozen fires — three of them involving large amounts of land — burned into the night.
Some structures had minor damage from one fire that broke out just before noon east of the Garden State Parkway in a central coastal area about 45 miles south of New York City.
Berkeley Township police said the fire had burned more than half a square mile. It was completely contained by late Thursday.
Residents of 620 homes in the township were evacuated as a precaution, but they were allowed back into their homes in the evening.
Another fire, also in Berkeley Township, engulfed about a quarter of a square mile. It was only 80 percent contained by early Friday, McLaughlin said.
In Franklin Township, he said a fire was still raging across more than a square mile, but none of the residents of about 60 nearby houses had been evacuated.
Winds in the area were sustained at 20 to 25 mph, with gusts of 35 to 40 mph on Thursday. Combined with dry conditions in much of the state, the winds led state officials to ban outdoor fires Thursday.
"April is fire month in New Jersey, and the conditions today were appropriate for a fast spreading wildfire," McLaughlin said.
Toms River Intermediate South school closed early as a precaution, and students were taken to Pine Belt Arena in Toms River. The district said they were sent home on their normal bus routes. The school was later used as a command post for officials coordinating firefighting efforts.
Dozens of firefighters battled the blaze on the ground, supplemented by three bulldozers building walls to stop the spread of flames and several helicopters and firefighting planes dropped water on the fire.
McLaughlin said two sheds, a boat trailer and a house burned in the Toms River fire.
At the same time, firefighters battled the second day of a forest fire in Downe Township in Cumberland County, at the far southern end of the state.
That fire, in the Bevans Wildlife Management Area, was 50 percent contained by late in the day, and firefighters were hopeful it wouldn't spread any further. No homes or other buildings were in the immediate area of the fire, which had burned nearly 2½ square miles.
McLaughlin said there also were small fires in the New Jersey communities of Whiting and Jackson.