Wind and Lightning Push Wildfires Across Montana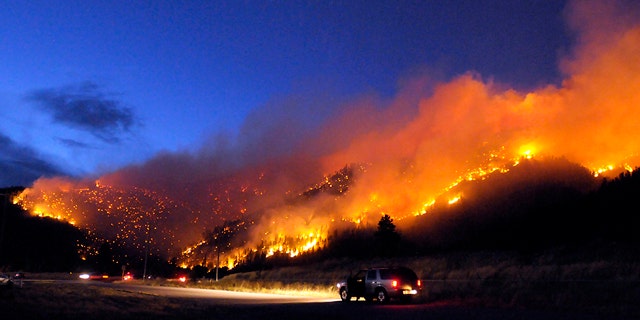 WEST RIVERSIDE, Mont. – Firefighters on Tuesday were unable to contain a blaze that had burned 2,000 acres east of Missoula, but officials said they believe the threat to nearby homes had been reduced.
Crews were putting out hot spots and patrolling the area near the 40 threatened West Riverside homes about seven miles east of Missoula near the confluence of the Blackfoot and Clark Fork rivers.
No evacuations have been ordered and no structures have been damaged. Incident commander Ken Parks said in a statement the imminent threat to the homes has been greatly diminished.
The wildfire had rapidly spread from its first reported size of 150 acres to 1,500 acres within hours Monday night.
More than 120 people were fighting the fire. Two 20-person crews were building fire lines along its western flank, while crews, dozers, engines and helicopters are fighting the fire on the more active eastern flank, the Department of Natural Resources and Conservation said in a statement.
Rachel Peterson, 7, told the Missoulian newspaper that she was playing outside her home when she was startled by a sound. "We were playing Barbies on the porch, and I heard a `poof' like a firework," she said. "Then I saw smoke, and so I said, `Uh-oh, I should tell Dad."'
The wind pushed the fire north and east away from the homes, DNRC fire information officer Paula Short said. By early Tuesday, the fire crept back down the mountain to within 30 feet of the neighborhood, witnesses and fire officials said.
Bret Hitshew, who was visiting friend Willy Lovell's home, told the Missoulian (http://bit.ly/rs7Vy7 ) that the flames drew near the home around 4 a.m.
"We got lucky," Hitshew said. "It didn't come into the treetops. The wind didn't pick up."
A few miles to the east, authorities went door to door to warn about a half-dozen residents near Johnson Gulch that the fire might be headed their direction.
The fire was visible from Interstate 90, and officials asked drivers not to congest the corridor by stopping to watch.
The Red Cross put on standby a shelter that can hold up to 50 people overnight in case any residents are displaced.
The West Riverside blaze is one of more than 10 active wildfires in the state after a relatively quiet fire season due to a wet, cool spring.
Two of the largest fires, at 2,800 and 1,350 acres, respectively, were burning in the Flathead National Forest. Both were in remote areas, and fire officials closed trails and set up protection measures for a cabin and two bridges.
Another wildfire in northeastern Idaho spread to 18,275 acres and crossed the Montana line into Ravalli County, officials said. That fire was threatening seven homes, two commercial properties and several outbuildings.
In southeastern Montana, crews were fighting a dozen new wildfires on the Crow reservation after numerous lightning strikes from a weekend thunderstorm. The largest burned 775 acres of grass and sage northwest of St. Xavier, while another in the Reno Creek valley, was threatening homes.