WHAT'S HAPPENING: Death toll rises; chemical plant explodes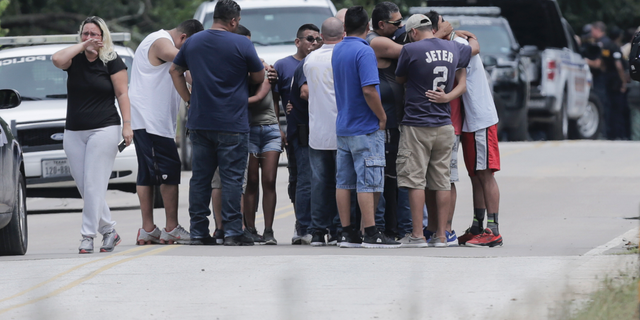 NEWYou can now listen to Fox News articles!
HOUSTON – Harvey has weakened as it leaves Texas and its floodwaters are dropping in much of the Houston area, but the death toll from the storm is rising, a chemical plant exploded and other states are expected to see rain and possibly flooding. Here are some things happening on the ground:
THE FORECAST
Harvey still is expected to bring lots of rain and potential damage after being downgraded to a tropical depression late Wednesday. Up to 8 inches (20 centimeters) are forecast from the Texas-Louisiana line into Tennessee and Kentucky through Friday. More flooding is possible, as some spots may get as much as a foot of rain. Forecasters said the rain is pretty much over for much of the Houston area, though.
THE DEAD
The number of confirmed deaths linked to Harvey is at least 31. It includes six family members — four of them children — whose bodies were pulled Wednesday from a van that had been swept off a Houston bridge into a bayou.
With floodwaters dropping, the Houston Fire Department said it plans on Thursday to start conducting a block-by-block search of areas in the city that had been inaccessible to firefighters. The searching of the homes will ensure "no people were left behind," Assistant Fire Chief Richard Mann said.
CHEMICAL PLANT
A Houston-area chemical plant that lost power after Harvey engulfed the area in floods was rocked by two explosions early Thursday. The Harris County Sheriff Ed Gonzalez says the resulting smoke presented "no danger to the community at all, although federal authorities warned that the plume is "incredibly dangerous." At a news conference, Rich Rennard, an Arkema executive, said the remaining chemicals are volatile and that more combustion is likely.
CELLPHONE SERVICES
Cellphone networks are largely functional in the Texas and Louisiana regions hit by Harvey. Cellphone companies brought in supplemental equipment and backup power. They also diagnosed problems using drones.
The storm knocked out fewer than 400 of the more than 7,800 cell towers in the affected counties. Hurricane Katrina disabled more than 1,000 cell towers in 2005.
___
Sign up for AP's daily newsletter showcasing our best all-formats reporting on Harvey and its aftermath: http://apne.ws/ahYQGtb