Warrant: Disabled North Carolina Girl May Have Been Raped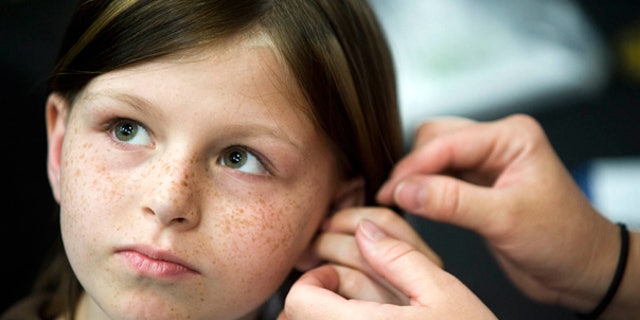 HICKORY, N.C. – A 10-year-old disabled girl who was dismembered after she died may have been raped by two men and hit in the head, according to a search warrant based on fourth-hand information and unsealed Tuesday.
The warrants also describe what might have happened to the body of Zahra Baker, who was reported missing Oct. 9. The warrants still did not reveal how the girl died.
The girl's stepmother, Elisa Baker, told police Zahra — who needed a prosthetic leg and hearing aids after a battle with cancer — was dismembered by someone wearing latex gloves. She also said that blood and bone could be found in the drain trap of a bathtub and the girl's body parts were put in white trash bags before being thrown in a Dumpster behind a shopping center in Hudson.
Also, a confidential source told police he heard about the alleged rape from a friend, who had heard about it from his sister. She said she was told about it by one of the men involved who said he had "done something very bad and needed to leave town." The source said he asked his friend if the men had killed Zahra, and was told "they might have hit her in the head."
The information in the warrants, some of which were posted on the website of the Hickory Daily Record, was from an Oct. 15 motion to keep the records in the investigation sealed. It doesn't say when the men may have attacked the girl.
No one has been charged in the girl's death, which police have labeled a homicide. Her stepmother, who is cooperating with authorities, is being held on an obstruction charge. She has admitted writing a fake ransom note to try to throw off authorities.
The girl's father, Adam Baker, is free on bond after being jailed on charges unrelated to his daughter's disappearance and death.
Police have said they don't believe the account given by the Bakers that they last saw Zahra the morning she was reported missing. And one warrant states her father said he hadn't seen her for three days. A month after she was reported gone, police announced they'd found what were believed to be her remains.
According to the warrant, police went to the home in Hildebran where the alleged rape took place and asked one of the men how a mattress leaning against a wall had been stained. The warrant said the girl was bleeding. The man told police he urinated on it and that the girl had never been at the home. He went with investigators to the police department but hasn't been charged.
Calls to police after hours on Tuesday were not returned.
The claim about the rape was among 11 warrants made public by order of Superior Court Judge Nathaniel Poovey. Prosecutors on Monday had asked that the warrants not be made public, arguing that it would hamper the continuing investigation.
Among other new details, the warrants expand an account by Elisa Baker on how the girl's body was dismembered and left in different sites around western North Carolina. She said the girl's remains were stashed in a bed comforter and a car cover before being discarded.
The warrants also say that Elisa Baker showed deception during a polygraph test when asked if anyone had harmed Zahra and whether she knew who wrote a ransom note found at the Bakers' residence the day Zahra was reported missing.
A call to Lisa Dubs, one of Elisa Baker's lawyers, was not immediately returned Tuesday.
Elisa Baker's lawyers have argued that her bail should be reduced because she led police to Zahra's remains.
Adam Baker emigrated to the U.S. from Australia after meeting Elisa Baker online.
Zahra's family had been planning a public memorial service Thursday, but Drum Funeral Home in Hickory said relatives have since decided to make it private and hold it at a later date.
Burial plans for Zahra have not been determined.